There are countless body types in the world. Actually, everyone has a different body type to be specific. There are just those big divisions that don't consider the small details. Anyways, every body type is beautiful and should be respected for it. However, sometimes, we cannot deny ourselves wanting the body type that fits the "beauty standard of the modern ages". 
SM Entertainment is known to be one of the toughest entertainment to enter because it not only considers vocal or dancing ability but consider the outlook beauty importantly. Yes. We do enjoy looking at beautiful things and people. SM is a professional in producing what we want to see and what wish to see. Most of idols or celebs from SM are undeniably "beautiful" fitting in the standard of the modern beauty.
One of the standards, not only face, but the overall body shape matters a lot. For women, the waistline that's curved in deeply is considered beautiful. Having some abs to it seems better. 
Here are top 4 SM beauties who's waist-line is admirable as ever.
1st- TaeYeon of SNSD
2nd - SeulGi of Red Velvet
3rd - YuRi of SNSD
4th - Joy of Red Velvet
Must Read : Korean Women Nominated for The 100 Most Beautiful Women of 2017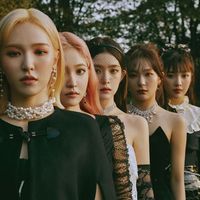 Became a fan of Red Velvet
You can now view more their stories