Though, it's natural for straight people to be attracted by opposite sex, sometimes they do get lured by the same sex.
There are always the lists of actors who straight men think they can date with. Also, there is a list of women actress who just makes women fans uncontrollably fall in love with them. Scarlet Johansen, Emma Watson, Emma Stone, and Rachel McAdams are few actresses who are loved globally by women fans.
As there is a list of Hollywood stars with great charms, there is a list of Korean actress who lures women fans and just don't let them go.
Check whether your favorite is part of the list!
1st – Kim TeRi
She starred in the movie "The Handmaiden" and showed such a great emotional delivery as well as diverse change of looks that fitted well. Though she became a top star just by a movie, she did not lose her modesty and greeted fans wherever, and whenever.
2nd – Kim HyeSoo
She is one of the role models of other young actresses. She is in her middle age, however, her perfect body and enthusiasm to try diverse genres lures the fans of many women. Despite her goddess looks and her social status, her personality seems to be like a warm big sister instead of being icy.
3rd – Jung YooMi
If you are fan of Korean variety program, you must have seen her from "Youn's Kitchen" in tvN. She is so called the queen of romantic comedy for delivering the complex feelings of women in love so well and being so having lovely looks. It's not only her looks that is loved, but her attitudes of being modest and lovely wherever she goes.
4th – Park BoYoung
Just look at her puppy eyes. How can you not fall for her? She is also one of the most loved actress by both men and women. Despite the fact that she is excellent in acting, she is also a great singer. One time when she was on an interview, a reporter asked to act cute for male fans. However, she refuted him by saying, I've got a lot of "Unnies (older sisters)" watching. Why can't I act cute for them?
5th – Chun WooHee
She has been constantly picked to be the representing actress of Korea. She's got something special compare to any other actresses of her age. She can put on various ages and characters just like her own clothes. Her own personal characteristic seems to be quiet, shy yet passionate and diligent. Also her face is very uniquely beautiful. 
Must Read : Who Says Glasses Make People Ugly? Actresses Who Still Looks Beautiful with Glasses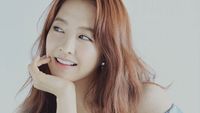 Became a fan of Park BoYoung
You can now view more their stories