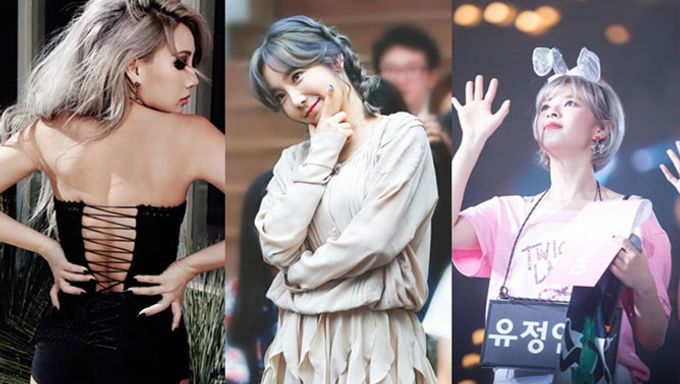 Brown, blonde, and red used to be the three colors popular for hair dying. Until now, they are the most common colors. However, recently, colors like pink, purple, blue, and green has been making  a new trend in hair dye. Those distinctive colors are not only pretty but cool and fun.
As bright catchy colors were enjoying their era, new color was on the rise. SILVER. Silver on a hair may lead to a misunderstanding in age. However, it's undeniable that silver hairs make you look mysterious and sort of magical! Not to mention sexy.
Here are top 5 girl idols who has walked the pioneer path of dying hair silver. Their stunning look just lures us to sit in the beauty shop this instant!
TaeYeon, HyeRi and JungYeon show how silver hair dye looks on short hair, while Moon Byul and CL represent the long hair type. Such diverse looks are given by the length and the style though they are the same color.
1st - TaeYeon of SNSD
2nd - CL of 2NE1
3rd - Moon Byul of Mamamoo
4th - JeongYeon of TWICE
5th - HyeRi of Girl's day 
Must Read : 17 K-Pop Male Idols Who Slay the Quick Silver Hair