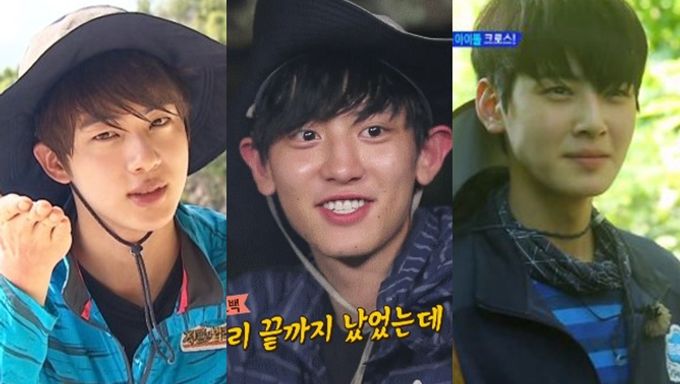 Here are 5 male stars who showed off their awesome looks in jungle without any makeup.
K-Pop stars and actors show off their handsome looks on the stage and TV screen. However, what if they can't put makeup on their faces and receive bright lights? Here are 5 stars who are still cool without any of those in jungle. Do you remember when Seo KangJun, ASTRO's Cha EunWoo, BTS's Jin, EXO's ChanYeol, and SEVENTEEN's MinKyu appeared in "Law of The Jungle". All of them showed off their perfect looks in jungle. 
Actually, it's pretty hard to keep handsome in jungle where the sunlight is so hot enough to make them sweat and tanned. Regardless of all those conditions, here are 5 males with perfect naked faces. Welcome to jungle handsome guys!
Must Read : GOT7 Mark, Signs Up for "Law of the Jungle" in New Zealand
1. Seo KangJun
2. ASTRO's Cha EunWoo
3. BTS's Jin
4. EXO's ChanYeol
5. SEVENTEEN's MinKyu