TopSecret made an official statement regarding the sexual assault rumor.
Recently, one woman claimed via SNS to have been sexually assaulted by TopSecret's KyeongHa in past.
On 12th, TopSecret's management company mentioned this through the official café and Facebook. "Hello, this is JSL Company. Firstly, we'd like to thank fans who always love and support TopSecret. Regarding the sexual assault rumor that's spreading online right now, it is not true."
They continued, "This company has thought of negative comments and slander as something we'd have to endure for the sudden love and attention TopSecret member has received for looking like the female lead of the drama "Goblin", and have kept an eye on these comments. However, because of the increase of number of false claims and attacks, we decided that these could harm both physical and mental health of KyeongHa himself, his family, other members, and also the fans who love him and cheer for him."
They also stated, "From this moment onwards, TopSecret will strongly confront all malicious rumors, false claims, and comments that personally attack the artists and their reputation, through legal measures."
They finally concluded, "We apologize once again for this controversy to fans who love TopSecret . TopSecret will work harder from now on."
Must Read : TopSecret Profile: The 7Stone Boys to Finally Debut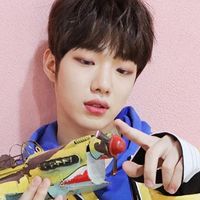 Became a fan of KyeongHa
You can now view more their stories