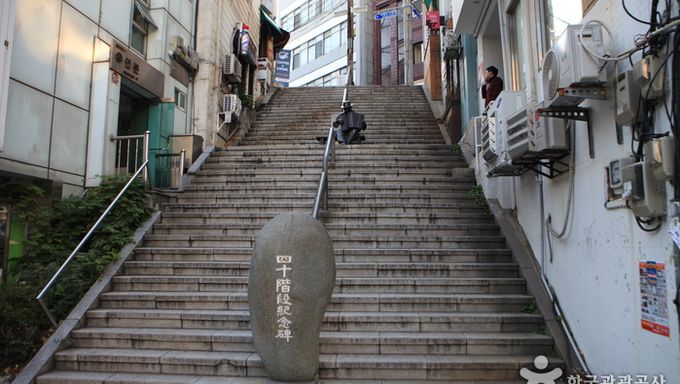 Introduction
The 40-step Culture & Tourism Theme Street is a 450m-street which leads up to the 40-step stairway of the '40-step Cultural Center' and continues on to the Palseong Tour.


The time-honored 40-step stairway embodies the joys and sorrows of refugees and those displaced by the Korean War. The entire area has been recently renovated to reflect life in Korea in the 50s & 60s.


The 40-step Culture & Tourism Theme Street was designated 'The Best Street' by the Busan municipal government in June 2004.br>
Address:
Area of 40gyedan-gil, Jungang-gu, Jung-gu, Busan[Google Map]
Homepage:
www.bsjunggu.go.kr
(Korean, English, Japanese, Chinese)
Transportation
[Train]
From Seoul Station, take the KTX for Busan
[Subway]
Jungang-dong Station (Busan Subway Line 1), Exit 13.
Walk in the direction of Gwangsan Hospital (approx. 5 min).
Additional Info
Available Facilities:
* 40-step
stairway

The 40-step stairway, located in Jung-gu, Busan, was a hub of transportation and administration during the Korean War. Those who were displaced by the war gathered around the area and made makeshift housing out of sticks and tarps. The place also functioned as a marketplace where residents traded aid goods that were delivered at the nearby port. It was a place to meet family members separated during the war and a place that has since then come to symbolize the sorrow and grief of those living during the Korean War. The place has the deepest significance for the over 100,000 people that were displaced during the war and were subsequently scattered throughout Yeongju-dong Hill, Donggwang-dong and Bosu-dong.
*
Railway
In memory of the Busan Train Station (now the location of the Jungang-dong Trade Center), a 140m-street was created in front of the 40-step Stairway, together
with the 40-step Square and Railroad Crossing Plaza.
* Seaway

In commemoration of the Busan Port, under the theme of a 'seaway,' a 120m-street
has been created in front of Sora Stairway, together with the Sora Stair Square and Pier
Plaza.
* Others (The Gate of Peace)

The Gate of Peace is located near the entrance of Railway. A small light symbolizing
the light of peace that never goes out casts its light over the 40-step Culture &
Tourism Theme Street.

tel: +82-51-600-4041
zipcode: 48930
infocenter: • 1330 Travel Hotline: +82-2-1330
(Korean, English, Japanese, Chinese)
• For more info: +82-51-600-4041, 4044