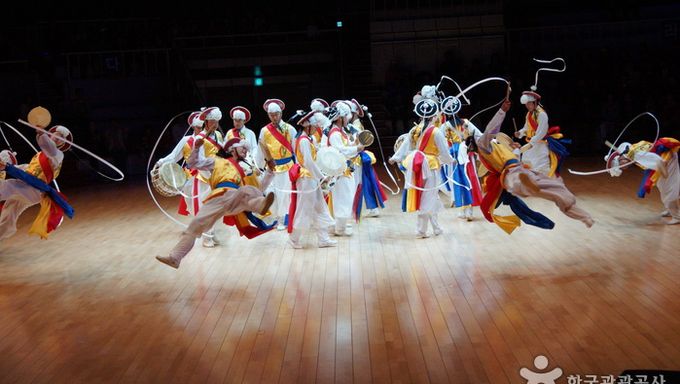 Introduction
Namsadang is a renowned troupe that combines regional traditional arts, such as acrobatics, singing, dancing, and circus performances that originated from the Anseong area. The troupe was formed in honor of Baudeogi, a celebrated artist of the Joseon Dynasty and Korea's first official female entertainer.
Namsadang performs on an ongoing basis and also focuses on developing and promoting various hands on Namsadang programs. Through their world tour, Namsadang plays a big role in spreading Korea's culture internationally. The annual Baudeogi Festival is also a great opportunity for visitors to take in various performances and take part in activities.
Address:
198-2, Namsadang-ro, Bogae-myeon, Anseong-si, Gyeonggi-do[Google Map]
Homepage:
www.namsadangnori.or.kr (Korean only)
Transportation
[Bus]
From Seoul Nambu Bus Terminal take a bus to Anseong Bus Terminal. Walk to Bogae Post Office bus stop. Take bus No. 15-1 until you reach Namsadang Training Center bus stop(남사당 전수관).
Additional Info
Industry Information:
Hands-on experience programs
Traditional Korean mask dance, beonanori (spinning hoops and dishes), etc.
Reservations:
Permanent performance: Reservation available on the homepage or on-site
tel: +82-31-678-2518
zipcode: 17508
accomcountculture: Performance Hall: 700 people / Outdoor Performance Hall: 1,000 people
infocenterculture: • 1330 Travel Hotline: +82-2-1330
(Korean, English, Japanese, Chinese)
• For more info: +82-31-678-2518
parkingculture: Available
usetimeculture: [Regular Performance]
- Period: March-November
- Date & Time: Saturday 16:00-18:00 / Sunday 14:00-16:00
- Online & on-site reservation available
- Last admission 10 min before performance time