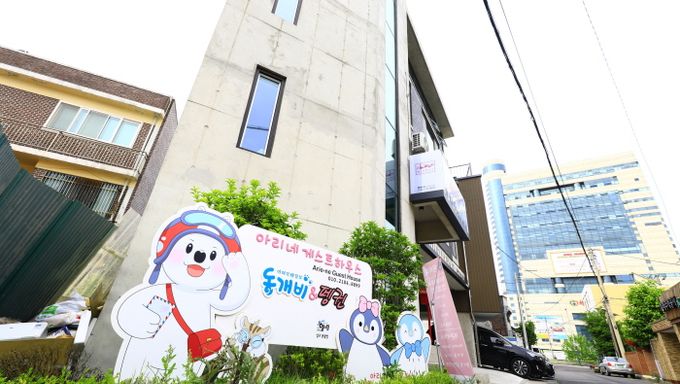 Introduction
ARIENE GUESTHOUSE is a four-story building with one basement and three floors aboveground. Located in Yangrim-dong, Namgu, Gwangju Metropolitan City, it consists of guestrooms on the 2nd and 3rd floors with amenities such as seminar room, sports equipment, and cafe on the 1st floor and the basement level. ARIENE GUESTHOUSE is the ideal accommodations for family guests with a child. Its interior was made with eco-friendly materials and decorated with penguin characters including Dongaebi, the mascot of Penguin Village in Yangrim-dong, creating a friendly atmosphere for children. The guesthouse is only 5 minutes away by car from Sajik Park, which is known for its observation tower, and about 10 minutes away from Gwangju Metro's Culture Complex Station and Namgwangju Station on foot. The room rate is inclusive of breakfast in western style (toast, coffee, fruits, and vegetables) or Korean style whose menu changes every day.
Address: 
6, Cheonbyeonjwa-ro 428beon-gil, Nam-gu, Gwangju[Google Map]
Homepage: 
https://blog.naver.com/arie-ne
Additional Info
addr2: (양림동)
tel: +82-10-2104-8899
telname: Park Su-young
zipcode: 61640
accomcountlodging: 40 persons
checkintime: 15:00
checkouttime: 11:30
chkcooking: N/A
infocenterlodging: • 1330 Travel Hotline: +82-2-1330

(Korean, English, Japanese, Chinese)

• For more info: +82-10-2104-8899
parkinglodging: Yes
pickup: Available
reservationlodging: Available (+82-10-2104-8899, https://blog.naver.com/arie-ne), * Selected as local residence (accommodations), so it can accepts both Korean and foreign guests.
reservationurl: For the guesthouse's refund policy, please visit https://blog.naver.com/arie-ne/
roomcount: 9
scalelodging: 3 floors and 1 basement floor
subfacility: Seminar Room, Sports Facility, Food&Beverage Facility, Barbecue, Public PC Room

Additional charge for use of the seminar room