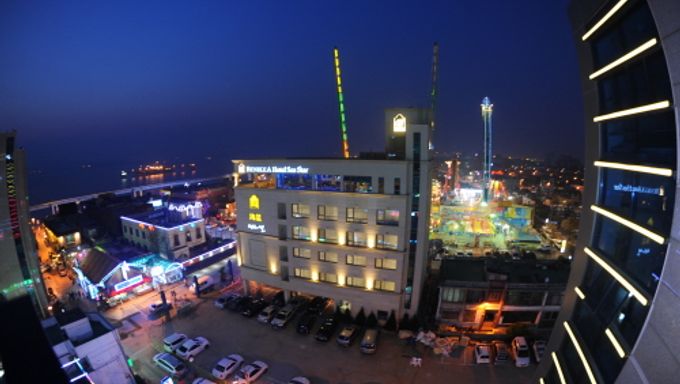 Introduction
BENIKEA Hotel Sea Star is located within the Wolmido Island Tourist Zone. Popular tourist spots in Incheon are also nearby, including Wolmisan Mountain, Culture Road, Wolmi Park (Traditional Garden Zone), the Immigration History Museum, a music fountain, and many more. All the guestrooms are sea-facing, offering spectacular views of the Yellow Sea.
Address:
7-2, Wolmi-ro 242beon-gil, Jung-gu, Incheon[Google Map]
Homepage:
benikea.com (Korean, English, Japanese, Chinese)
Transportation
[Taxi]
20 minutes from Incheon International Airport, 10 minutes from Incheon Port International Passenger Terminal, and 20 minutes from Incheon Bus Terminal.
[Subway]
Get off at Incheon Station (Seoul Subway, Incheon 1 Line, last stop) and transfer to local bus no. 23, 2, or 45.
Get off at Wolmido Bus Stop.
[Airport limousine bus]
Catch airport limousine no. 306. (Interval: 20 min./Travel time: approx. 40 min./Fare:
2,800 won)
① Board on bus bound for Yeongjong-daegyo Bridge – Bugincheon – North Port – Hwadojin Park – Manseok Overpass – Incheon Station.
Get off at
Incheon Station and take bus no. 23, 3, 45 or 702.
Additional Info
addr2: (Bukseong-dong 1-ga)
tel: +82-32-765-7000
telname: Kim Jin-bae
zipcode: 22303
benikia: 1
checkintime: 14:00
checkouttime: 12:00
chkcooking: Unavailable
foodplace: Outdoor garden (150 people max.), Sky lounge (120 people max.)
infocenterlodging: • 1330 Travel Hotline: +82-2-1330
(Korean, English, Japanese, Chinese)
• For more info: +82-32-765-7000, +82-32-765-8300
parkinglodging: 100 spaces
pickup: Available
reservationlodging: +82-32-765-7000
reservationurl: benikea.com
roomcount: 44
roomtype: Deluxe Twin, Super Deluxe Twin, Royal Double, Royal Deluxe
scalelodging: 1 underground floor, 8 above ground floors
subfacility: Business room (Printing machines, PCs, TVs, desks, office stationary, sofa, and beverage service available)