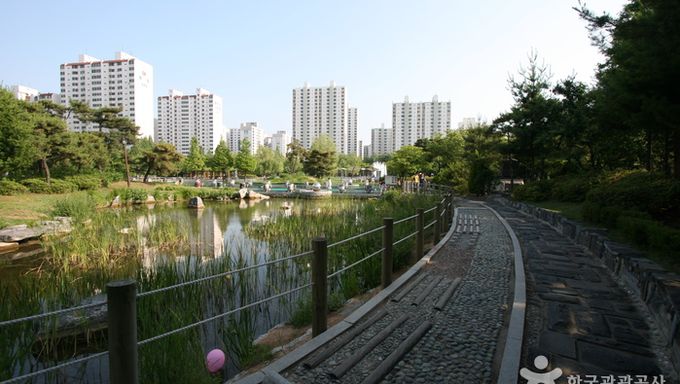 Introduction
Located in Jung-dong, Wonmi-gu, Bucheon-si, Gyeonggi-do, Bucheon Park is the representative park in the area. The park was constructed from 1992 and 1993, and was later redesigned in 2000 as an ecological park. The park holds various events throughout the year, and also has an outdoor wedding hall that can be reserved free of charge.
Address:
162, Sohyang-ro, Wonmi-gu, Bucheon-si, Gyeonggi-do[Google Map]
Closed:
N/A (Open all year round)
Homepage:
www.bucheon.go.kr (Korean, English, Japanese, Chinese, Russian)
How To Use
Parking Facilities:
Available (B1 - 1,000 spaces)
(Mon-Fri: 24 hours / Sat 07:00 - Sun 23:00)
Transportation
[Subway]
Bucheon City Hall (Seoul Subway Line 7), Exit 1.
Take an immediate right and the park will be just ahead.
Additional Info
Film Locations:
Drama "I Can Hear Your Voice (2013)"
Admission Fees:
Free
Available Facilities:
Gate ball court, badminton court, jokgu court, barefoot path, grass square, wildflower garden, pavilion, water fountain, streamlet, etc.
Restrooms:
Available
Facilities for the Handicapped:
Not available
Parking Fees:
300 won for the first 30 minutes / 200 won each additional 10 minutes
Korean Info. Service:
Not available
Reservation Info. for Natives:
Not available
tel: +82-32-320-2638
telname: Bucheon Park Facilities Management Office
zipcode: 14584
accomcount: More than 1,000 people
infocenter: • 1330 Travel Hotline: +82-2-1330
(Korean, English, Japanese, Chinese)
• For more info: +82-32-625-3491
opendate: December 21, 1993
usetime: 00:00-24:00