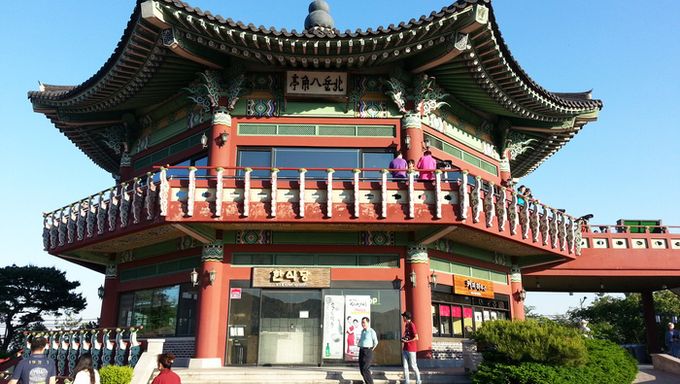 Introduction
Bugak Skyway Palgakjeong Pavilion
exudes a tranquil, serene beauty regardless of the season. The pavilion, which sits on Bugaksan's 1,652,900m²
(500,000 pyeong) area at an altitude of 345m, was built in a traditional
Korean style to give a hint of history.
Site area: 6,883㎡ (2,085 pyeong)
Building area (Palgakjeong Pavilion): 652㎡
(197 pyeong)
Address:
267 Bugaksan-ro, Jongno-gu, Seoul[Google Map]
Homepage:
http://tour.jongno.go.kr (Korean only)
How To Use
Parking Facilities:
Available
Transportation
Gyeongbokgung Station (Seoul Subway Line 3), Exit 3.
Take Bus No. 0212, 1030 or 7022 and get off at Jahamun Gate (Changuimun Gate) Bus Stop.
Walk toward the entrance of the path to Bugaksan Mountain.
From the entrance, continue walking for 3 km to the pavilion.
Or, take a taxi from Gyeongbokgung Station.
Additional Info
Tour Course Information:
* Gwanghwamun Gate → Changuimun-gil → Bugak Skyway → Palgakjeong Pavilion (About 10㎞)
* Samcheong-dong → Bukak Golf Course → Bugak Skyway → Palgakjeong Pavilion (About 10㎞)
* Donam-dong → Arirang Gogae (Hill) → Bugak Skyway → Palgakjeong Pavilion (About 11㎞)
Film Locations:
Filming site of 'My daughter Seoyoung,' 'Maybe Love'
Admission Fees:
Free
Available Facilities:
Traditional madang, viewing area, resting area, observatory, walking trails, cafe, snack bar, restaurant, etc.
Restrooms:
Available
Facilities for the Handicapped:
Seperate restroom, designated parking lot
* Restaurant on the 1st floor has a wheelchair ramp.
Parking Fees:
Cars: 300 won for every 10 min
Buses: 900 won for every 10 min
tel: +82-2-120
zipcode: 03010
infocenter: • 1330 Travel Hotline: +82-2-1330 (Korean, English, Japanese, Chinese)
• For more info: +82-2-120