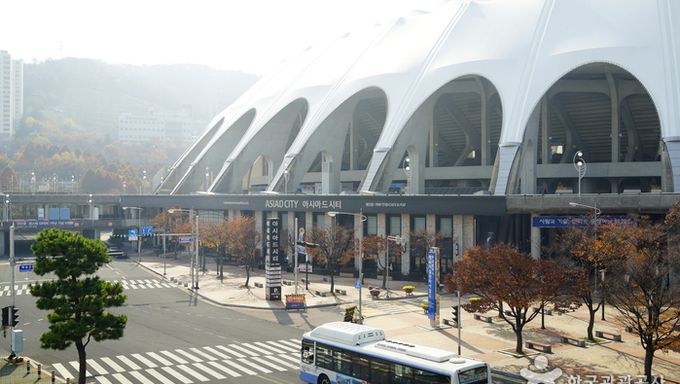 Introduction
Busan Asiad Main Stadium consists of 1 underground floor and 4 above-ground floors with a total area of 330,000㎡. The stadium has been furnished with 53,000 seats, including 252 seats for guests with physical disabilities, and has a maximum holding capacity of 80,000 spectators.
Since the beginning of its construction in November of 1993, the city of Busan invested a total of 22,694,800 won, a work force of 488,000 laborers, and 7 years and 9 months to complete the stadium. An auxiliary stadium of an area of 24,785㎡ stands next to the main stadium. Asiad Main Stadium is a multi-purpose sports complex for holding various performances and residential events.
The architectural structure is designed to match the image of Korea's representative marine city, Busan. The structure uses curves and delicate lines rather than straight lines in order to resemble the ocean's rolling waves.
Busan Asiad Main Stadium was the first sports arena in Korea to be recognized as a first-class international stadium by the International Association of Athletics Federations (IAAF). Even in the case of heavy rain, with rainfall of as much as 10~15mm/hr, players can continue their competitions after only 12~24 hours of queue due of the unique lawn planting method. A lighting system of 2000 lx and the splendid electric scoreboard provide spectators with high-resolution TV relay broadcasting for an exciting game watch.
Address:
344, World cup-daero, Yeonje-gu, Busan[Google Map]
Homepage:
www.busan.go.kr (Korean, English, Japanese, Chinese)
Transportation
[Express/Intercity Bus]
Dong Seoul Bus Terminal ↔ Busan
Seoul Express Bus Terminal ↔ Busan
Cheongju Express Bus Terminal ↔ Busan
Gyeongju Express Bus Terminal ↔ Busan
Details: www.kobus.co.kr
[Railroad]
Seoul Station (KTX, ITX, Mugunghwa) ↔ Busan Station
Miryang Statin (KTX, ITX, Mugunghwa) ↔ Busan Station
Suncheon Station (Mugunghwa) ↔ Haeundae Station
Details: www.letskorail.com
[Subway]
Sports Complex Station (Busan Subway Line 3), Exit 9.
Or, Sajik Station (Busan Subway Line 3), Exit 1.
Additional Info
Reference Notes:
* For rentals: +82-51-500-2136
Space for sports activities: track and field, soccer and other sports-related event.
* Office spaces: for training purposes. Consult management office for more details.
Inquiries: Management & Operations Office +82-051-500-2121
Rental Information:
Rental for stadium: Athletics, soccer game and other physical & cultural events
Rental for facilities located in the stadium: Exercise-related office room & Training site, etc.
tel: +82-51-500-2123
zipcode: 47500
infocenterleports: • 1330 Travel Hotline: +82-2-1330
(Korean, English, Japanese, Chinese)
• For more info: +82-51-500-2123
parkingleports: Available
reservation: Inquiries for rental: +82-51-500-2123
scaleleports: - Area: Total 561,949㎡ (Main Stadium: 330,578㎡)

- Main Stadium: 1 underground floor, 4 above-ground floors
- Semi-open roof with steel frame and concrete reinforced joint cables

- Seating Capacity: 53,769 seats (total capacity of 80,000 people)

- Auxiliary Stadium: 2 above-ground floors
- Seating Capacity: 4,549 (total capacity of 15,000 people)