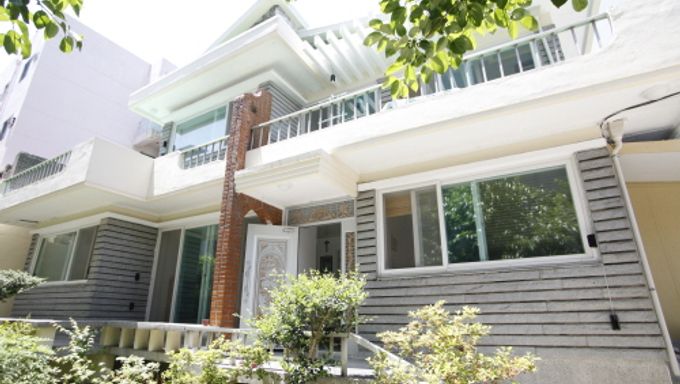 Introduction
Located at 5 minutes from Gwangju Station, Byeolbam (Star Night) is a nice guest house made by repairing and trimming a dilapidated two-story house. Being near the train station and easy to go to other regions such as Damyang, the place is popular with train travelers.
Opening the wooden gate, you will be greeted by a pretty yard filled with rosed and a 30-year-old camellia. Inside the house are the communal living room and kitchen and the Cloud Room (3 persons) and Sky Room (6-person dormitory) on the first floor. On the second floor are the Star Room (4-person dormitory) and Night Room (2~3 persons). Each room has individual lockers, multi-purpose desk, mirror and clean bathroom. Breakfast is served with simple Korean meal or bread. Snacks such as coffee, rice cake and fruit are available freely. It is possible to cook simple foods like Ramen in the communal kitchen.
Leaflets for tourist guide in Gwangju region and tourist map are furnished in the living room. Daein Art Market, which is famous for a night market, is about 1.2㎞ away from Byeolbam, and Chungjang-ro Street, Asia Culture Hall, Dongmyeong-dong Cafe Alley, Chosun University, Penguin Village, Yangnim-dong, etc. are close to Daein Art Market. It takes less then 10 minutes by car to go to Chonnam National University, Gwangju KIA Champion's Field, Gwangju Museum of Art, Gwangju National Museum, etc.

Address:
8-6, Gyeongyang-ro 147beon-gil, Buk-gu, Gwangju[Google Map]
Homepage:
Transportation
Available
Additional Info
tel: +82-10-7590-3779
telname: Kim Hae-Suk
zipcode: 61237
accomcountlodging: 15 persons
checkintime: 16:00
checkouttime: 11:00
chkcooking: N/A
foodplace: Available (Dining place for breakfast)
infocenterlodging: • 1330 Travel Hotline: +82-2-1330

(Korean, English, Japanese, Chinese)

• For more info: +82-10-7197-7228
parkinglodging: Available (2 cars)
pickup: N/A
reservationlodging: Available (+83-10-7197-7228, http://byulbam.kr/wp/?page_id=344)
reservationurl: www.booking.com, www.airbnb.co.kr
roomcount: 4
roomtype: *Star Room / Sky Room / Cloud Room / Night Room / Unshared house
scalelodging: 2 floors (148.76m²)
subfacility: Food & beverage facilities, public PC room, public shower, communal restroom