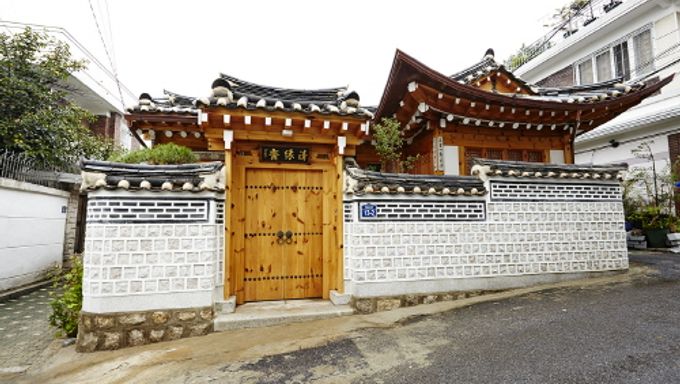 Introduction
Located around the tourist information center in Bukchon Hanok Village in Jongno-gu, which is famous as the noblemen"s residential area during the Joseon Dynasty, Cheong Yeon Jae, meaning "a clear and clean connection that further advances to more precious and better relationships", is a Korean-style boutique hotel that was established by renovating an old hanok, which was originally built in 1935, and opened in 2014. Korean red pine wood was used for building the hanok, while the stones used for the Korean floor heating system decorate the yard. The outstanding structure of Cheong Yeon Jae radiates its charm along with the tiled-roof stone wall and a large gate.
The hotel has five guestrooms with pure Korean names – Daon, Dorae, Jini, Sinae, and Doran. Daon, meaning "every good will come", is a byeolchae (detached house) consisting of two rooms, a bathroom, a small yard; and entering the main building, a "ㅁ"-shaped hanok structure with a small yard, four rooms and a living room is situated in which Dorae, meaning "live a healthy and long life", the anbang (main room) of the hotel, has a large window with the view of the yard. Jini, meaning "all the luck of the world", is a cozy room decorated with amiable items. Sinae, meaning "cool and clear", is a spacious room. From the small courtyard that stretches out in front of you, you can feel the scent of nature. Lastly, Doran, meaning "gather around for a friendly chat", is a small yet cozy room. The living room and the kitchen are situated between Rooms Dorae and Jini.
Every room is equipped with an air conditioner, colorful bedding filled with cotton, and a refined bathroom for guests' comfortable stay. In addition, its rafters on the ceiling, walls papered with hanji (Korean paper), and wooden furniture add sophisticated and antique atmosphere to the accommodation. Cheong Yeon Jae also provides a Korean traditional clothes experience program, which includes clothes for men, women, and children, and a traditional tea ceremony program to promote Korean culture and help guests to create interesting memories. Moreover, it offers Korean-style breakfast that is prepared with fresh seasonal ingredients every morning and is loved by guests.
Address:
13-2, Bukchon-ro 6-gil, Jongno-gu, Seoul[Google Map]
Homepage:
Transportation
Available
Additional Info
tel: 02-744-9200
telname: Lee Jee Hye
zipcode: 03056
accomcountlodging: 11 persons (Up to 15 persons)
checkintime: 15:00
checkouttime: 11:00
chkcooking: N/A
foodplace: None
hanok: 1
infocenterlodging: • 1330 Travel Hotline: +82-2-1330
(Korean, English, Japanese, Chinese)
• For more info: +82-2-744-9200
parkinglodging: None
pickup: Available
reservationlodging: Available(+82-2-744-9200, http://www.hcyj.kr)
reservationurl: www.agoda.com, www.booking.com
roomcount: 5
roomtype: ※ Room Type - Traditional ondol room (Floor-heated)
scalelodging: Approx. 132㎡, one floor