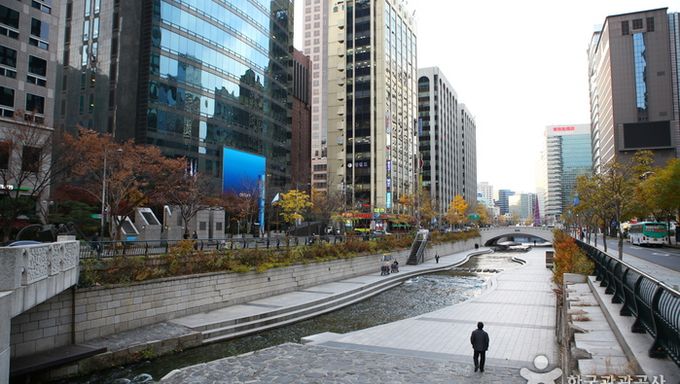 Introduction
Cheonggyecheon Stream starts from Cheonggye Plaza, just off Sejong-ro Avenue. Cheonggye Plaza roughly covers an area of 2,500 square meters, and is located at the starting point of Cheonggyecheon Stream. The square, created based on the design of traditional
Korean bojagi (a colorful wrapping cloth), features the elegant beauty of traditional stonework that is colorful yet refined. The plaza also includes a model of Cheonggyecheon that provides visitors with a bird's-eye view of the restored Cheonggyecheon Stream. At the plaza, there are plaques that provide detailed commentaries on the 22 bridges that span the stream, as well as a number of graceful fountains that add to the ambience of the area. The area commemorates the Cheonggyecheon Stream Restoration Project, and also symbolizes gathering, harmony, peace, and unity.
After the completion of Cheonggye Plaza, Seoul Metropolitan Government designated the area as a vehicle-free zone on holidays, providing more leisure space for pedestrians. Since then, the waterfront areas of Cheonggyecheon Stream, and the surrounding streets have become popular places for those seeking refreshment and a variety of cultural experiences. A favorite of many is the Candle Fountain, which features the magnificent synchronicity of three different lighting fixtures and a 4-meter-high, two-tiered waterfall. Along the two sides of the waterfall are the Palseokdam wishing wells, made of 8 different stones from each of the nation's 8 provinces.
Address:
Changsin-dong, Jung-gu, Seoul[Google Map]
Closed:
N/A (Open all year round)
Homepage:
www.sisul.or.kr (Korean, English)
How To Use
Parking Facilities:
Use nearby parking lots
Transportation
[Subway]
- City Hall, Jonggak, Jongno 3(sam)-ga, Jongno 5(o)-ga,
Dongdaemun, Sinseol-dong Stations (Seoul Subway Line 1)
City Hall, Euljiro 1(il)-ga, Euljiro 3(sam)-ga,
Euljiro 4(sa)-ga, Sindang, Sangwangsimni Stations (Seoul Subway Line 2)
Jongno 3(sam)-ga Station
(Seoul Subway Line 1, 3 and 5)

Dongdaemun History & Culture Park Station (Seoul Subway Line 4)

Gwanghwamun Station (Seoul Subway Line 5).
Additional Info
Admission Fees:
Free
Restrooms:
Available in major buildings along the stream
tel: +82-2-2290-7111
zipcode: 04563
expguide: * Ecology exploration, hands-on programs run all year round.
* Covered Structure Exploration – Exploration the inside of covered structures at Cheonggyecheon Stream (10 min with guide)
- Venue: 50m from Samilgyo Bridge at Cheonggycheon 2-ga
infocenter: • 1330 Travel Hotline: +82-2-1330
(Korean, English, Japanese, Chinese)
• For more info: +82-2-2290-7111
usetime: Open 24hr