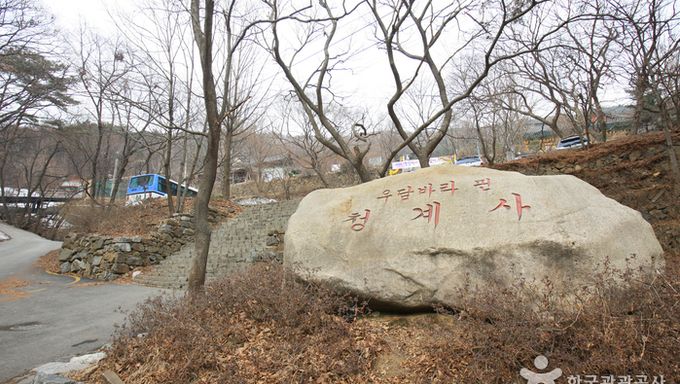 Introduction
Close to Baegun Lake is a Buddhist temple that was famous for the udumbara flower, a rarity that blooms on Buddhist statues. It is the Cheonggyesa Temple (청계사) of Cheonggyesan Mountain (청계산). Built during the Silla Kingdom, the temple offers many sights, including the Cheonggyesa Temple Monument, geungnakbojeon (Hall of Paradise), the bell tower, samseonggak (shrine for three spirits), jijangjeon (Ksitigarbha Hall), three temple dormitory buildings, including the Sugak, and gamnoji pond where there is spring water that never dries up. Among the many things to see, visitors should not miss a glimpse of the Bronze Bell of Cheonggyesa Temple and the Wood Printing Block in Cheonggyesa Temple. Created in the 27th year of the reign of King Sukjong (1701) of the Joseon Dynasty, the Bronze Bell has been designated as a national treasure, and is adorned with elaborate patterns, such as the bosanghwamun (floral pattern), four images of Buddha holding a lotus flower stem, and two dragons.
Address:
475, Cheonggye-ro, Uiwang-si, Gyeonggi-do[Google Map]
Closed:
N/A (Open all year round)
Homepage:
www.chungkeisa.com (Korean only)
Transportation
Take bus 9504, 9502 at Sadang station on line 4 and get off at Indeogwon in Anyang.
Take exit 2 at Indeogwon station on line 4 and take shuttle bus no. 1 at the bus stop in front of the convenience store.
Additional Info
Admission Fees:
Free
tel: +82-31-426-2348
telname: Cheonggyesa Temple
zipcode: 16000
infocenter: • 1330 Travel Hotline: +82-31-1330 (Korean, English, Japanese, Chinese)
• For more info: +82-31-426-2348
usetime: 04:00~20:00