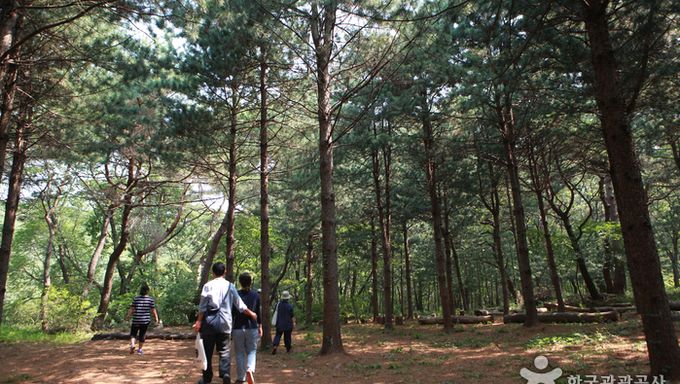 Introduction
Cheonggyesan Mountain surrounds Seoul Grand Park, Seoulland and National Museum of Modern and Contemporary Art in Gwacheon. The mountain boarders the area of Yangjae-dong, Seoul and Gwacheon-si, Seongnam-si, and Uiwang-si, Gyeonggi-do. The mountain is nestled at the foot of Gwanaksan Mountain, south of downtown Gwacheon. Dense forests, neat valleys, parks, and temples are available in the mountain, making it a suitable climbing course for families. Also, varied walking courses are set up. The top of the mountain, Manggyeongdae, is not open to public access as a government facility is situated on the peak. Guksabong Peak (alt. 538 meters) and another peak (alt. 545 meters) are connected through a mountain path.
It is said that a faithful person, Joyun in the late Goryeo period entered Cheonggyesan Mountain from Songdo after the demolition of Goryeo by Yi Seong-gye who was the first King of the Joseon dynasty. Also, it was referred to as "Cheongryongsan" because the area is regarded as the place where a blue dragon (cheongryong) ascended to heaven. Based on the principles of geomancy, Gwaksan Mountain and Cheonggyesan Mountain are called "Baekho" (White Tiger) and "Cheongryong," respectively.
Address:
Wonteo-gil, Seocho-gu, Seoul-si & Uiwang-siㆍGwacheon-siㆍSeongnam-si, Gyeonggi-do[Google Map]
Closed:
N/A (Open all year round)
Homepage:
www.seocho.go.kr (Korean, English, Japanese, Chinese, French)
How To Use
Parking Facilities:
Available
Transportation
[Subway + Bus]
Yangjae Station (Seoul Subway Line 3), Exit 7.
Take Bus No. 4432 in front of Seocho City Office and get off at Cheonggyesan Mountain Bus Stop.
Additional Info
Hiking Course:
[Course 1]
Wonteogol Entrance → Wonteogol Yaksuteo (mineral spring) → Kkalttakgogae Ridge → Heliport → Maebong Peak (3km / 1 hr 20 min)
[Course 2]
Wonteogol Entrance → Cheongaesa Temple → Gilmajae Pavilion → Maebong Peak (2.7km / 1hr)
[Course 3]
Cheonggyegol Entrance → Cheonggyegol Yaksuteo (mineral spring) → Gilmajae Pavilion → Heliport → Maebong Peak (2.13km / 1 hr)
[Course 4]
Gaenarigol Entrance → Ongnyeobong Peak → Santokki Ongdalsaem → Heliport → Maebong Peak (4.32km / 2 hr 10 min)
[Course 5]
Yangjae Truck Terminal → Ongyeobong Peak → Heliport → Maebong Peak (4.7km / 2 hr 20 min)
Available Facilities:
Mineral springs, pavilion, bridge, forest park, etc.
Restrooms:
Available
tel: +82-2-2155-6870
zipcode: 06806
expguide: [Cheongyesan Forest Tour Program]
- Period: April-November
First and third Sunday 10:00 / Second and fourth Saturday 10:00
- Venue: Entrance of Gwanhyeonsa Temple at Cheongyesan Mountatin
- Operation: Professional forest interpreter explains history, culture and nature ecology while taking a tour course
- Participation: All visitors (free tour)
infocenter: • 1330 Travel Hotline: +82-2-1330
(Korean, English, Japanese, Chinese)
• For more info: +82-2-2155-6870