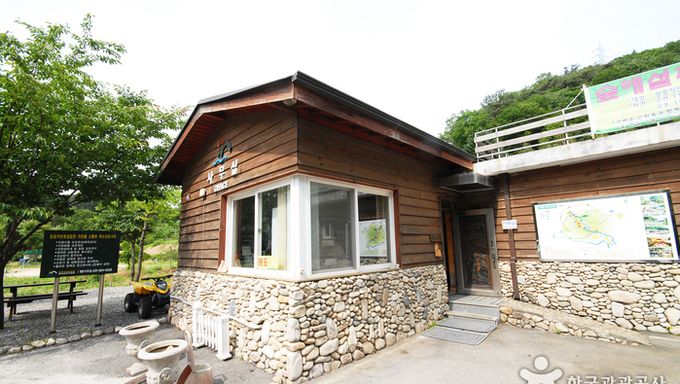 Introduction
Cheongpyeong Recreational Forest (청평자연휴양림) boasts a pristine natural landscape that overlooks Cheongpyeongho Lake in Bukhangang River. The forest is a great getaway from the monotony of urban life where visitors can immerse themselves in the beauty of nature.
The forest changes color every season, offering breathtaking views of Cheongpyeongho Lake through colonies of pine trees and oak trees in the spring and summer, colorful foliage in autumn, and a white snow-covered landscape in the winter. Sounds of flowing water and birds singing add to the joy of the great outdoors. The forest offers 5 buildings for general accommodation and 2 'Mayflower' buildings for friends and couples. There is also an observatory, picnic site, swimming pool, forest cafe, garden, and auditorium. Located in the vicinity of Seoul, the forest is easily accessible as a weekend getaway. It is recommended for family gatherings and group workshops.
Address:
8-6, Bukhangang-ro 2246beon-gil, Cheongpyeong-myeon, Gapyeong-gun, Gyeonggi-do[Google Map]
Homepage:
www.campcp.com (Korean only)
Transportation
- Take a bus from DongSeoul Bus Terminal to Cheongpyeong(depart every 15 mins)
- Take a bus from Sangbong Bus Termianl to Cheongpyeong
* Take a bus bound for Suim-ri (수임리) or Samheo-ri (삼회리) from Cheongpyeong to Cheongpyeong Recreational Forest (6:30, 9:00, 12:40, 14:00, 15:30, 17:45, 19;00) or take 5 mins by taxi.
Additional Info
Admission Fees:
Adult 5,000 won / Children (applicable to child under elementary school) 4,000 won
* Senior and for the disabled 4,000 won (ID check required).
* Please make phone inquiries for group visit.
* Kids under 3 years old can enter free of charge upon accompanying guardian or family.
Facility Utilization Fees:
[Low Season]
Weekdays 80,000~250,000 won / Fridays 110,000~300,000 won / Weekends 120,000~310,000 won
[Mid-Peak Season]
Weekdays 90,000~260,000 won / Fridays 120,000~310,000 won / Weekends 130,000~320,000 won
[Peak Season]
Weekdays, Fridays 150,000~350,000 won / Weekends 160,000~360,000 won
※ Weekdays: Sundays to Thursdays
※ Weekend: Fridays to Saturdays, a day before national holidays
※ Mid-Peak Season: July 7-17, August 17-31
※ Peak Season: July 18-August 16
※ 10,000 won for additional person (children under 3 years of age are free, but are counted as an additional person)
tel: +82-31-584-0528
zipcode: 12458
infocenter: • 1330 Travel Hotline: +82-2-1330
(Korean, English, Japanese, Chinese)
• For more info: +82-31-584-0528 (Korean)
usetime: [Operating hours]
Summer (Apr~Oct) 09:00~18:00
Winter (Nov~Mar) 09:00~17:00
[Accommodation Facility]
Check-in Day 15:00-Check-out Day 12:00 (next day)
※ July-August: Check-out Day 11:00