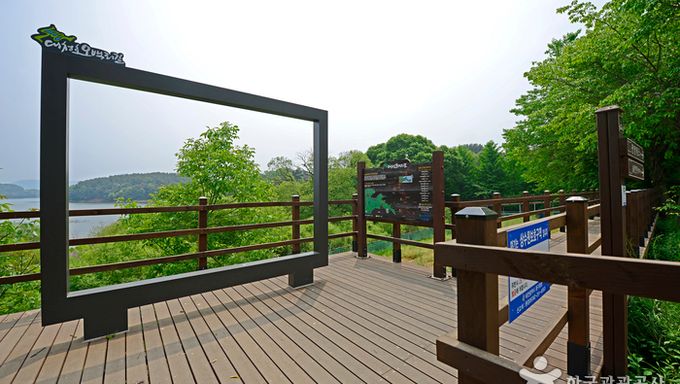 Introduction
Daecheongho Obaengni (500-ri) Road is a 220km walking path passing through the Daejong (Dong-gu, Daedeok-gu) and Chungcheongbuk-do (Cheongwon, Okcheon, Boeun) areas. The road passes Daecheongho Lake, small streams, trekking roads, a forest trail, an old path, and much more. The "obaengni" (500-ri) from the name of the road comes from the distance from Seoul or Busan to Daecheongho Lake, which is 500-ri.
Several mountains at an altitude of 200-300m and lots of greenery surround Daecheongho Lake. The area also has a date course, a meditation course, a trekking course, a family trip course to experience rural culture and cultural exploration, a bike course and other themed courses. The road was awarded an Asian Townscape Award by the UN-Habitat Program.
Near the road are tourism attractions like the Daecheong Dam Water Culture Center, Daecheongho Sculture Park, Daecheongho Art Museum, Daecheongho Natural Ecology Center and others. In addition, there are historic cultural tourism spots like Cheongwon Cheongnamdae, Munui Cultural Properities Site, Boeun Songnisan Mountain, Okcheon Dujunbong Peak, and the birthplace of
Jeong Jiyong and Yuk Yeongsu.
Address:
Daedeok-gu, Daejeon[Google Map]
Homepage:
www.dc500.org (Korean only)
Transportation
Daejeon Station (Gyeongbu Line by KTX) or Daejeon Bus Terminal, take a taxi to the site.
Additional Info
tel: +82-42-250-1236
telname: Daecheongho Obaengni Road
zipcode: 34316
infocenterleports: • 1330 Travel Hotline: +82-2-1330
(Korean, English, Japanese, Chinese)
• For more info: +82-42-250-1236
scaleleports: Total 21 routes / around 220 km