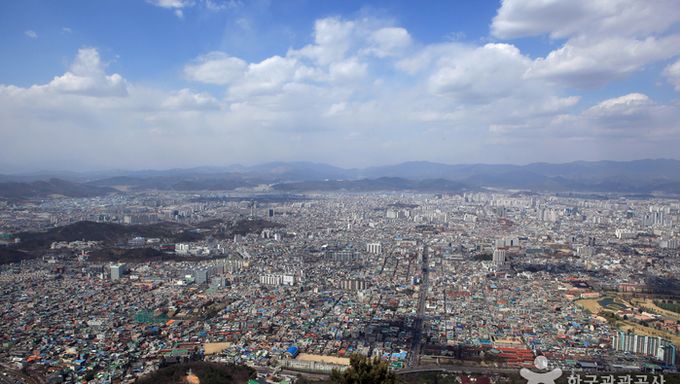 Introduction
Apsan is a 600 meter-high mountain in Nam-gu, Daegu-si. At the front and back of the mountain are Sanseongsan Mt. (653m) and Daedeoksan Mountain; Apsan Park is located in the valley where the three mountains converge.
Apsan Park is one of the largest urban-eco parks in Daegu, covering an area of around 508 pyeong (approx. 1,680 meters squared). A cable car runs 790m up Apsan and at the foot of the mountain are leisure facilities where visitors can enjoy archery, horseback riding, and swimming. There is also a monument that commemorates the poet Yi Ho-wu as well as Nakdonggang River War Memorial Hall (established in 1979) and Keungol Daedeok Dongsan Hill, which has a fabulous garden perfect for dates or family outings.
As a major leisure place for Daegu citizens, the park has numerous walking trails. Largely, the routes can be categorized into three groups: ones that start from the park and connect to Apsan Mountain, those that go from the park to Sanseongsan Mountain, and those that wind along to Daedeoksan Mountain. The length of the paths varies from 2km to 4km, allowing visitors to choose the path that best fits their capabilities and preferences. Visitors can capture the view of Daegu from the Apsan Observatory after getting off the cable car.
Address:
574-87, Apsansunhwan-ro, Nam-gu, Daegu[Google Map]
How To Use
Parking Facilities:
Available
Transportation
[Subway]
Anjirang Station (Daegu Subway Line 1), Exit 3.
- Take Bus 410 and get off at Apsan Park (앞산공원).
[Train + Bus]
From Daegu Station or Dongdaegu Station, take a bus to the park.
Blue Bus: 300, 410, 410-1, 750
Green Bus: Dalseo 4, Dalseo 4-1
Additional Info
Hiking Course:
[Daegu Suburb Trekking Course]
Course 1: Yongdugol Entrance – Sports equipment – Sanseongsan Mountain (3.0km)
Course 2: Yongdubangcheon Stream – Yongdutoseong Earthen Fortress– Sanseongsan Mountain (4.4km)
Course 3: Gosangol Entrance – Beopjangsa Temple – Sanseongsan Mountain (3.2km)
Course 4: Sanseongsan Entrance – KT – Sanseongsan Mountain (4.3km)
Course 5: Keungol Entrance – Daedeok Shelter – Apsan Mountain (3.2km)
Course 6: Chunghotap Parking Lot – Cheongsujeong Mineral Spring – Apsan Mountain (3.8km)
Course 7: Anjiranggol Entrance – Apsan Observatory – Apsan Mountain (2.5km)
Course 8: Anjiranggol Entrance – Anilsa Temple – Daedeoksan Mountain (3.2km)
Course 9: Maejagol Entrance – Sports equipment – Daedeoksan Mountain (2.4km)
Course 10: Dalbigol Management Office – Wongisa Temple – Apsan Mountain (2.6km)
[Apsan Jarak-gil Trail]
* Total route: Gosangol Metasequoia Road – Dalbigol Youth Training Center (15km / 6 hours)
Course 1: Gosangol Metasequioa Road – Gangdanggol (1.9 km / 35 minutes)
Course 2: Gangdanggol – Cable Car (2.3km / 55 minutes)
Course 3: Cable car – Anjiranggol Information Center (2.4km / 1 hour)
Course 4: Anjiranggol Information Center – Hwangryongsa Temple Entrance (2.4km / 1 hour)
Course 5: Hwangryongsa Temple Entrance – Dalbigol Management Office (3.2km / 1 hour 20 minute)
Course 6: Dalbigol Management Office – Youth Training Center (3.8km / 1 hour 40 minutes)
Admission Fees:
Free
Facility Utilization Fees:
[Cable Car]
- Round-trip fare Individuals: Adults 9,500 won / Children 7,500 won
Groups: Adults 8,500 won / Children 6,500 won
- One-way fare
Individuals: Adults 7,500 won / Children 5,500 won
Groups: Adults 6,500 won / Children 4,500 won
* Children (ages 4-elementary school students) / Groups of 30 people or more
* Daegu City Tour users: 20 % discount for round-trips (only available for same day ticket-holders)
Available Facilities:
Swimming pool, horseback riding area, archery, training center, cable car, observatory, children's playground, library, golf club
Restrooms:
Available
tel: +82-53-625-0967
zipcode: 42502
infocenter: • 1330 Travel Hotline: +82-2-1330
(Korean, English, Japanese, Chinese)
• For more info: +82-53-625-0967