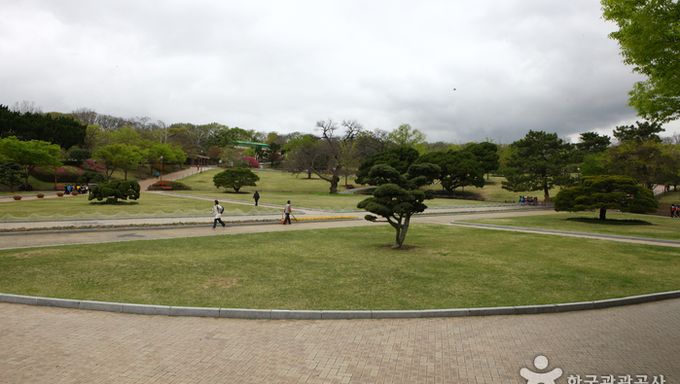 Introduction
* Scooters and electric scooters are prohibited.
Dalseong Daegu Park (also referred to as 'Gyeongsang-gamyeong Park') is the oldest and most intimate outdoor leisure places in Daegu. In the park, there is a grass plaza, cultural hall, zoo, and monument inscribed with the poem of the famous poet Lee Sanghwa.
The park was once a fortress location of Dalgubeol, a tribal country of the Samhan/Three Kingdoms Era rooted in the area now known as Daegu. When the Sino-Japanese War broke out from 1894 to 1895, the land served as a Japanese military base. In 1905 (the 9th year of King Gojong of the Joseon Dynasty) the park was created and in February 1965 the City of Daegu transformed the park into the well-organized leisure area we know and love today.
Address:
35, Dalseonggongwon-ro, Jung-gu, Daegu[Google Map]
Closed:
N/A (Open all year round)
Homepage:
www.daegu.go.kr/Dalseongpark (Korean, English, Japanese, Chinese, Arabian)
How To Use
Parking Facilities:
Available (limited parking spaces)
Transportation
Seomun Market Station (Daegu Subway Line 2), Exit 5.
Take a bus to Dalseong Park
Bus 300, 414, 414-1, 427, 808, 836, 939, Donggu 2, Bukgu 2, or Bukgu 3
Additional Info
Admission Fees:
Free
Available Facilities:
Grass Plaza
Daegu History Museum
Zoo- (birds, mammals, reptiles, etc.)
Cultural properties (mud rampart, Gwanpungnu Pavilion)
7 monuments including one inscribed with a poem of the famous poet Lee Sanghwa
Restrooms:
Available
tel: +82-53-803-7363
zipcode: 41924
infocenter: • 1330 Travel Hotline: +82-2-1330
(Korean, English, Japanese, Chinese)
• For more info: +82-53-803-7363
usetime: 05:00-21:00