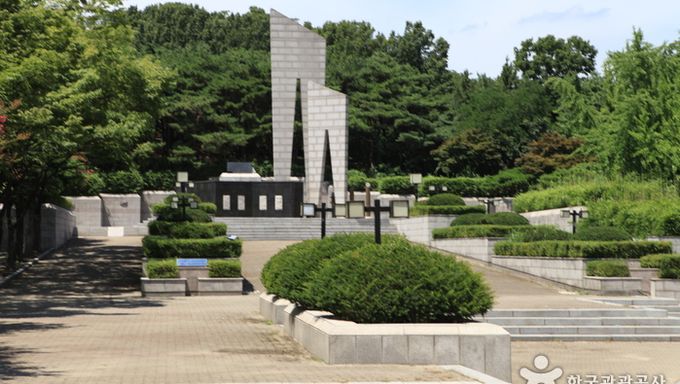 Introduction
Daegu Duryu Park was built near Duryusan and Geumbongsan mountains in 1977. The park is home to Daegu Tower (the tallest observation tower in Korea), Ubang Tower Land, Daegu Culture and Arts Center, and numerous other cultural and leisure facilities. The park is a favorite relaxation spot for many Daegu citizens.
There are over 133 species of trees and plants in the park, including flowers that bloom along the roadsides throughout the year. In summer, one of the most popular attractions is Osaek Fountain in the cathedral pond.
Major facilities include soccer and baseball fields, a gymnasium, a swimming pool, tennis courts, an in-line skating rink, a golf course, and a judo center. In addition to sports facilities, there are also a variety of cultural attractions: Duryu Library, Sculpture Hill, 2ㆍ28 Memorial Tower, an outdoor concert hall, Cathedral Pond Osaek Fountain, Daeseongsa Temple, Geumyongsa Temple, and Byeokcheon Falls.
Address:
161, Duryugongwon-ro, Dalseo-gu, Daegu[Google Map]
Homepage:
http://www.daegu.go.kr/Duryupark (Korean, English, Japanese, Chinese, Arabic)
How To Use
Parking Facilities:
Available (4 parking lots)
Transportation
[Subway]
Seongdangmot Station (Daegu Subway Line 1), Exit 3.
- Walk straight for about 1km.
- Take a left turn at Seongdang-ro road.


Or,
Duryu Station (Daegu Subway Line 2), Exit 14.
- Walk about 630 m and take a right turn.
Additional Info
Admission Fees:
Free
Available Facilities:
- Athletic facilities: Tennis court, Duryu Baseball field, multi-purpose stadium, Duryu swimming pool, tennis court, inline skating rink, golf course, judo center, gymnasium park
- Educational and cultural facilities: Duryu library, cultural art center, figure dongsan, 2. 28 Memorial Tower, outdoor music hall, Daegu Tourism Information Center
- Entertainment facility: E-World
- Other facilities: Seongdangmot, fountain, Geumyongsa Temple, Daeseongsa Temple, Byeokcheon Waterfall
- Convenience facilities: Resting area, snack bar, pergola, drinking site, benches
Restrooms:
Available
tel: +82-53-803-7486
zipcode: 42672
expguide: [Forest Explanation and Forest Activity Operation]
- Period: Feb-Nov (First Half: Mar-Jun, Second Half: Jul-Nov)
- Guests ages 6 and up (individuals and groups accepted)
- Participant limit: 5-30 people
- Reservation: Phone reservation (Inquiry: +82-53-625-1952)
infocenter: • 1330 Travel Hotline: +82-2-1330
(Korean, English, Japanese, Chinese)
• For more info: +82-53-803-7470