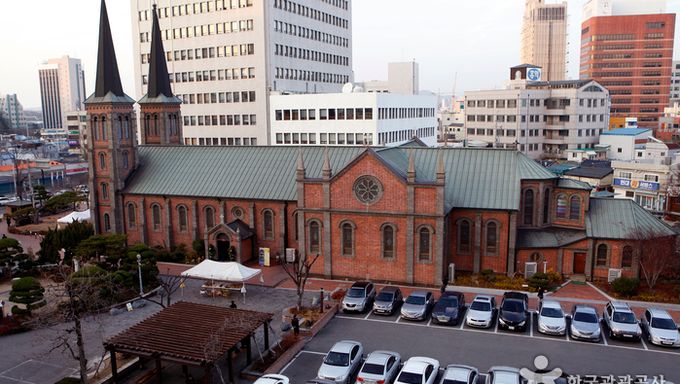 Introduction
The Daegu Gyesan Catholic Church was built by Priest Robert, A.P. (1853-1922), who came to Daegu for missionary work. In 1899, the church building was constructed with wood using a Korean-style design, but was destroyed by fire a few months after construction began. Priest Robert created a new building design and imported stained glass and galvanized iron from France and Hong Kong, since these types of building materials were hard to find in Korea. Construction was finally completed in 1902, three years after the project was first started.
The Catholic Church is the only remaining structure in Daegu from the early 1900s. The church is Latin cross-shaped with a nave and transepts on both sides. Such formations are seen both inside and outside the building. This predominantly Romanesque church also features some Gothic architectural elements such as stained-glass windows and pinnacles.
Daegu Gyesan Catholic Church played a pivotal role in promoting Catholicism in the Yeongnam area. In 1911, it was separated from the Joseon Catholic parish and became the main Catholic parish in Daegu area, naming Priest Robert as the first chief priest. Statues commemorating the priest stand in the rectory and a memorial hall named 'Gwandeokjeong' holds the remains of 65 Catholic martyrs.
Address:
10, Seoseong-ro, Jung-gu, Daegu[Google Map]
How To Use
Parking Facilities:
Available
Transportation
Banwoldang Station (Daegu Subway Line 1 or 2), Exit 18.
Go
straight about 300m and turn right at the Gyesan 5-way Intersection.
Go
straight 170m to arrive at the Daegu Gyesan Catholic Church on the right.
Additional Info
Admission Fees:
Free
Parking Fees:
Free
tel: +82-53-254-2300
zipcode: 41933
infocenter: • 1330 Travel Hotline: +82-2-1330 (Korean, English, Japanese, Chinese)
• For more info: +82-53-254-2300
usetime: 00:00-24:00