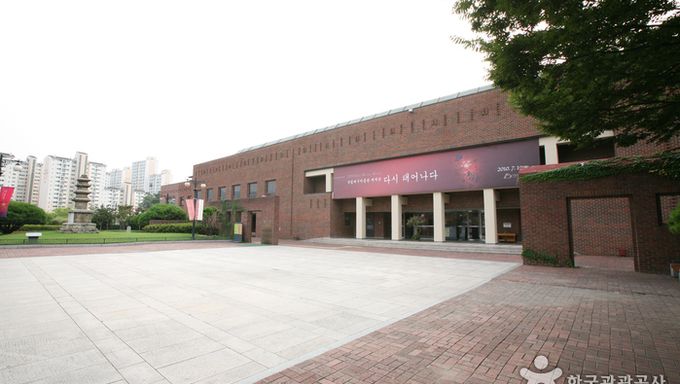 Introduction
Daegu National Museum was built to preserve and exhibit the unique cultural heritage of Daegu and Gyeongsangbuk-do province. It is a neat brick building with two basement floors. There are three exhibition halls, a special exhibition hall, an experiment study room, an audiovisual studio and a library. At the Archeology Gallery, you can see relics ranging from the Neolithic Era to the Three Kingdoms Period in a chronological order. At the Art History Gallery, you can see and learn about the Buddhist culture of Gyeongsangbuk-do province. Here you can see Buddhist sculptures, Buddha statues and Buddhist crafts. The Goryeo celadon and Buncheong ware are also displayed here. At the Traditional Folk Life Gallery you can learn about the Seonbi culture and the beliefs and rituals of the Yeongnam area, and see traditional Korean houses. You can also enjoy the Outdoor Gallery where a five-storied stone pagoda stands. There are other facilities where visitors can participate in museum activities. You can try traditional dyeing, explore the traditional herbs and learn about agricultural plants. Do not miss going here because this is where you can learn about traditional herbs used for medicine, plants and grains. Resting in the natural surroundings at the wildflower and plant walkway or the Ecology Valley can be very relaxing.
Address:
321, Cheongho-ro, Suseong-gu, Daegu[Google Map]
Length of Tour:
About 1 hour
Homepage:
daegu.museum.go.kr (Korean, English, Japanese, Chinese)
How To Use
Admission / Participation Fees:
Free (free ticket will be offered at the information desk on the first floor)
* Except for special exhibitions and planned exhibitions
* Children (ages 6 and under) who are not accompanied by adults are not allowed to enter.
Parking Fee:
Free
Transportation
Seoul to Deagu
1. Take a bus from Seoul Express Bus Terminal (Express
Bus Terminal station, Subway Line 3,7) to Daegu (Bus schedule: 06:00 - 01 :30
(following day), 15-40 intervals / Estimated travel time: 3hrs 40min)
2.
Take a Korea Train Express (KTX) from Seoul Station to Dongdaegu Station.(Train
schedule: 05:15-23:00, 15-30min intervals / Estimated travel time: 1hr 50min)
*
At Daegu Train Station, take Bus No.349 or No.524.

* At Daegu Express Bus Terminal, take Bus No. 514 or No. 814.

Get off at Daegu National Museum
Additional Info
Program Information:
English, Japanese and Chinese
Foreign Language Intepretation Services:
English, Japanese and Chinese
Reservations:
Reservation required for group (20 people or more)
zipcode: 42997
accomcountculture: 1,000 per a day
* Hall: 360 seats / Audiovisual Studio: 98 seats
infocenterculture: • 1330 Travel Hotline: +82-2-1330
(Korean, English, Japanese, Chinese)
• For more info: +82-53-670-6114
parkingculture: Available (total: 155 spaces / 21 large-sized cars and 134 small-sized cars)
restdateculture: Every Monday, New Year's Day, Seollal (Lunar New Year's Day) & Chuseok (Korean Thanksgiving Day)
usetimeculture: 09:30 - 17:30
* Night openings(April-October): Saturdays 10:00-21:00
* Culture day (last Wednesday of every month) 10:00-21:00
* Last admission is 30 min before closing.