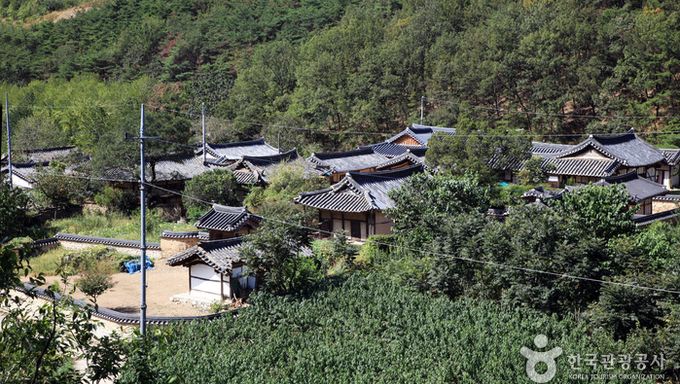 Introduction
There are few stories about the history of Otgol Village's name. Some stories say it was named for its concave topographical features, as three sides are surrounded by a mountain. Others believe that the name derives from the groves of lacquer trees (locally called otnamu) in the nearby mountains and fields. Based on its Chinese character, the second belief is thought to be more understandable.
There is a 350-year old zelkova tree, designated as a nurse-tree, as well as two huge pagoda trees whose ages are also almost 350 years, located at the entrance of the village. The entrance of the village is marked by the shade of these huge trees.
Otgol village is the clan village of the Gyeongju Choi family that settled in the area in 1616 with the arrival of Choi Dong-jip, a scholar in the mid-Joseon era. Some houses in the village have been reconstructed into contemporary-style building while other remaining houses, old roads, and traditionally-built stone walls have kept their original forms. These traditional structures allow visitors to learn the lifestyle of nobleman. In particular, Baekburam Old House is located in the deepest area of the village. It features the oldest house in the Daegu area, having been built in 1694 by Choi Gyeong-hyang, a grandson of Choi Dong-jip. It is comprised of Sallimchae, Bobondang, and two shrines and it is designated as National Cultural Property No. 261.
Also, Otgol Village is famous for being a beautiful village with traditional houses that kept its mud walls and stone walls giving a quiet and calm atmosphere.
Address:
Dunsan-dong, Dong-gu, Daegu[Google Map]
Homepage:
tour.daegu.go.kr (Korean, English, Japanese, Chinese)
How To Use
Parking Facilities:
Available (Entrance of Otgol Village)
Transportation
[Local Bus]
Take Bus Donggu 3 (Otgol) from Haean Station (Daegu Subway Line 1), Exit 2.
Get off at the last bus stop (village of Gyeongju Choi's clan,
Otgol Village).
Additional Info
tel: +82-53-627-8906
zipcode: 41055
infocenter: • 1330 Travel Hotline: +82-2-1330
(Korean, English, Japanese, Chinese)
• For more info: +82-53-627-8906