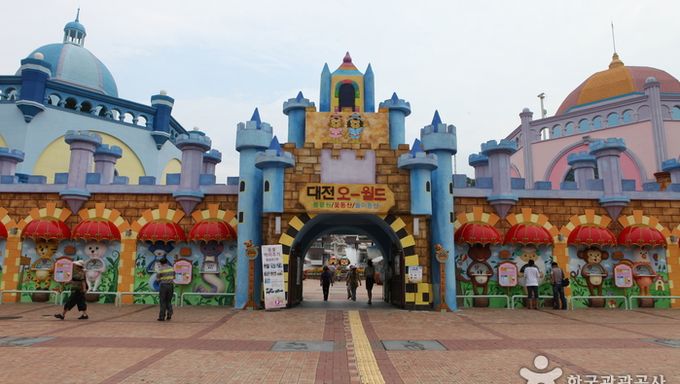 Introduction
Daejeon O-World was established when the Daejeon Zoo and Joy Land, an amusement park, were integrated under the supervision of the Daejeon City Corporation. The project cost a whopping 40 billion won and resulted in the construction of Flower Land (100,000㎡) in addition to the renamed Zoo Land and the preexisting Joy Land. It opened on May 1, 2009 to the public.



The three main sections of Daejeon O-World are Zoo Land, Joy Land, and Flower Land. Zoo Land is currently home to a total of 600 animals of 130 different species including American black bears, Bengal tigers, lions, elephants, giraffes, zebras, and ostriches. Amusement rides, waterslides, and four-season sledding are housed at Joy Land. Flower Land boasts a number of smaller sections such as Rose Garden, Four Season Garden, Herb Garden, and Maze Garden and is home to a total of 150,000 tress of 100 different species and 200,000 flowers of 85 different species. An outdoor stage and concert hall are also located in the area.
There are plenty of things to see and enjoy in every corner of Daejeon O-World. Just beyond Festival Street, visitors will find a large (3,000㎡) pond with a fountain.
Address: 
70, Sajeonggongwon-ro, Jung-gu, Daejeon[Google Map]
Closed: 
N/A (Open all year round)
Homepage: 
www.oworld.kr (Korean only)
How To Use
Parking Facilities: 
1,913 cars available to park at O-World Parking Lot
Transportation
[Bus]

From Daejeon City, take Bus No. 115, 301, 311, 314, 315 or 318 to Daejeon O-World Bus Stop.
Additional Info
Admission Fees: 
Individual Ticket
Adults 12,000 won / Teenagers 7,000 won / Children & Senior citizens 5,000 won
Individual 1-day Ticket
Adults 29,000 won / Teenagers 23,000 won / Children & Senior citizens 20,000 won


For detailed information

요금안내 www.oworld.kr
Available Facilities: 
* Zoo Land, safari, amusement park, Flower Land
* Water-playing pool (June-August), electronic cars, center for lost children
* Storage lockers, pet daycare, first aid center, etc.
Restrooms: 
Available
Parking Fees: 
Free
Korean Info. Service: 
Available
tel: +82-42-580-4820
zipcode: 35073
infocenter: • 1330 Travel Hotline: +82-2-1330
(Korean, English, Japanese, Chinese)
• For more info: +82-42-580-4820
usetime: 10:30-18:00 (last admission 17:00)
May-October: Saturdays 10:30-22:00 (last admission 21:00)