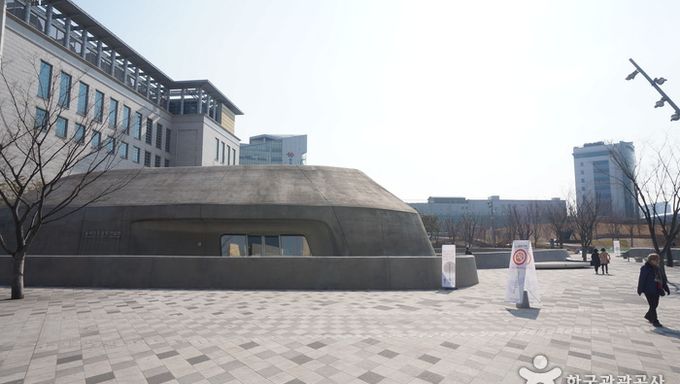 Introduction
At Dongdaemun History & Culture Park, traditional buildings and cutting-edge modern cultural facilities come together harmoniously. Seoul Fortress, Yigansumun Water Gate, Dongdaemun History Museum 1398, Dongdaemun Excavation Site Exhibition Hall, Dongdaemun Stadium Memorial, an event hall, and design gallery can all be found within the park.
During the construction work of the park, remains and relics were unearthed, including Yigansumun Water Gate and Chiseong (the first defense facility found) of Seoul Fortress, 44 buildings sites from as early as the Joseon Dynasty including Hadogamteo Site (military training ground), and 1,000 relics including Joseon Baekja (white porcelain of the Joseon Dynasty) and Buncheong Sagi (grayish blue powdered ceramics) from the early Joseon Dynasty through the Japanese colonial rule period.
Dongdaemun History & Culture Park has a role almost akin to that of a historical culture theme park where one can see the living history of Seoul through exhibitions and events showcasing contemporary design and culture. It also serves as a resting area for the people.
Address:
281, Eulji-ro, Jung-gu, Seoul[Google Map]
Closed:
[Park] N/A (Open all year round)
[Facilities] Mondays
Homepage:
http://www.ddp.or.kr (Korean, English, Japanese, Chinese)
www.visitseoul.net (Korean, English, Japanese, Chinese, Russian)
Transportation
[Subway]
Dongdaemun History & Culture Park Station (Seoul Subway Line 2 & 4), Exit 1.
[Bus]
Blue Bus: 101, 102, 103, 105, 107, 108, 144, 152, 163, 201, 260, 261, 262, 270, 271, 301, 370, 407, 420, 720, 721
Green Bus: 2112, 2233, 2014, 7025, 7212
Red Bus: 9403
Airport Bus: 6002
Maeul Bus: Jongno03
Additional Info
Admission Fees:
Free
Available Facilities:
[Main Facility]
- Seoul Fortress, Design Gallery, Event Hall, Dongdaemun Stadium Memorial, Dongdaemun History Museum 1398, Two Stadium Light Towers
Restrooms:
Available
Korean Info. Service:
DDP Self-tour
- Tuesday-Sunday 10:00-19:00
- Audio Guide program
- DDP Tour Kit (Audio Guide + Guidebook) 4,000 won / DDP Tour Guidebook 2,000 won / DDP Activity Paper 2,000 won
* Not available Mondays, January 1, the day of Seollal (Lunar New Year's Day) and Chuseok (Korean Thanksgiving Day)
* Inquiries: +82-2-2153-0410
telname: Seoul Design Foundation
zipcode: 04566
infocenter: • 1330 Travel Hotline: +82-2-1330
(Korean, English, Japanese, Chinese)
• For more info: +82-2-2266-7188
opendate: October 27, 2009
usetime: [Park] Open 24 hrs
[Design Lab] Weekdays 10:00-21:00 / Weekends & Public Holidays 10:00-22:00
[Rose Garden Lighting] 19:00-00:00
[Art Hall] 10:00-21:00
[Museum] 10:00-19:00 (Wednesday & Friday 10:00-21:00)
[Dongdaemun History Museum 1398] 10:00-18:00
* Closed on January 1 & Mondays
[Dongdaemun Stadium Memorial] 09:00-19:00
* Closed on January 1 & Mondays