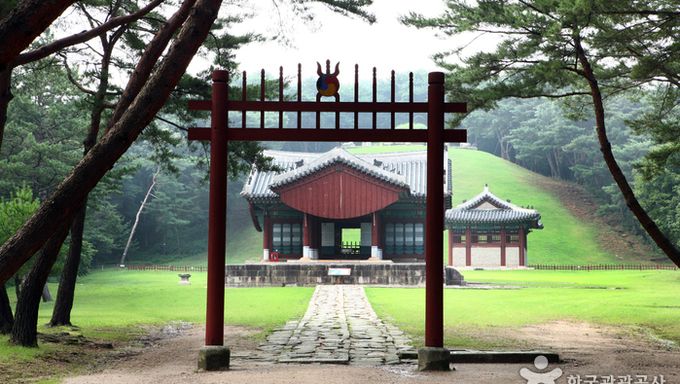 Introduction
Donggureung Tombs are located in a large forest area, and they
are the resting place of Joseon's kings and queens. There are nine royal mausoleums and seventeen graves in total. The tombs are very large compared to other tombs in Korea, and the surrounding forest adds to the scenery. The nine royal mausoleums include the tomb of Joseon Dynasty's founder King Taejo (1335-1408), which is called Geonwolleung.
A thick forest surrounds the mausoleums, and between the graves there are casual walking trails. An especially famous part of the Donggureung Tomb area is the historically significant field of purple eulalia reeds. The long reeds are said to have been transplanted from King Taejo's hometown in the Hamheung region. The burial site carries 600 years of Joseon history with it.
Address:
197, Donggureung-ro, Guri-si, Gyeonggi-do[Google Map]
Closed:
Mondays
Homepage:
royaltombs.cha.go.kr (Korean, English, Japanese, Chinese)
How To Use
Parking Facilities:
Available (100 parking spaces)
Transportation
[Bus]
Gangbyeon Station (Seoul Subway Line 2), Exit 4.
Take bus 1 or 1-1 to Donggureung.
Gwangnaru Station (Seoul Subway Line 5), Exit 3.
Take
bus 1 or 1-1 to Donggureung.
Additional Info
Parking Fees:
Small cars: 2,000 won
Large vehicles: 5,000 won
Admission Fees:
Adults (ages 19-64): Individual 1,000 won / Group (10 people or more): 800 won
Children (ages 7-18): Individual 500 won / Group (10 people or more): 400 won
* Free admission on the last Wednesday of every month.
[Hourly / Lunch / Day Pass]
Hourly Pass: Valid for 1 year
Early Entry: 06:00-09:00 (Nov~Feb 06:30-09:00) / Lunch 11:30-14:30 (Admission time: 11:30-13:30)
- Fee: 30,000 won
Lunch Pass: Valid for 3 months (10 times)
- Entry: 11:30-14:30 (Admission time: 11:30-13:30)
- Fee: 3,000 won
Day Pass: Valid for 1 month
- Entry: Anytime during operating hours
- Fee: 10,000 won
Facilities for the Handicapped:
Wheelchair rental service, restrooms
Restrooms:
Available
tel: +82-31-563-2909
zipcode: 11910
heritage1: 1
infocenter: • 1330 Travel Hotline: +82-2-1330
(Korean, English, Japanese, Chinese)
• For more info: +82-31-563-2909,
+82-31-564-2909
usetime: February-May & September-October: 06:00-18:00
June-August: 06:00-18:30
November-January: 06:30-17:30
* Last admission: 1 hour before closing