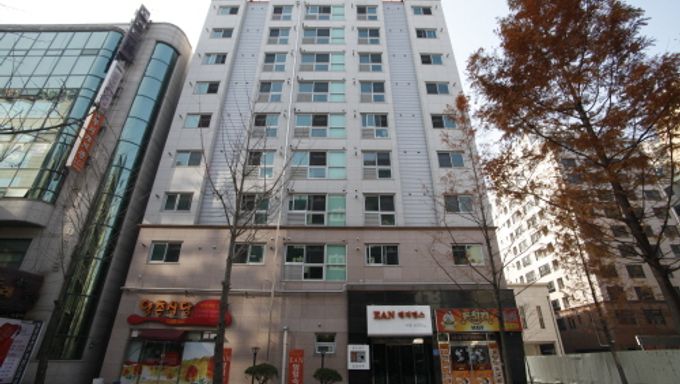 Introduction
Ean Residence Hotel is the first of its kind in Daejeon. All the rooms were furnished with a new bed in 2017. The hotel has a total of 79 Standard Queen, Double, Twin, Deluxe, and Ondol Rooms. The hotel staff with several years' experience in the business know how to make short- and long-term guests feel at home, regardless of the purpose of their visit. All the rooms are air-conditioned. The hotel also provides morning call and laundry services. Located in Dunsan-dong, the downtown area of Daejeon, the hotel is very conveniently located close to the City Hall, Court, and National Police Agency as well as large hospitals, department stores, and large stores.
Address: 
29, Dunsan-ro 65beon-gil, Seo-gu, Daejeon[Google Map]
Homepage: 
www.eanhotel.co.kr(Korean only)
Transportation
Available
Additional Info
tel: +82-42-487-3939
telname: Lee Jihye (manager)
zipcode: 35233
accomcountlodging: 158 persons
checkintime: 16:00
checkouttime: 12:00
chkcooking: Available
foodplace: None
infocenterlodging: • 1330 Travel Hotline: +82-2-1330
(Korean, English, Japanese, Chinese)
• For more info: +82-42-487-3939(Korean, Japanese)
parkinglodging: Yes
pickup: Not available
reservationlodging: Available (+82-42-487-3939, www.eanhotel.co.kr)
reservationurl: www.agoda.com, http://tour.interpark.com, www.webtour.com, www.ticketmonster.co.kr), www.wemakeprice.com, mobile.dailyhotel.co.kr/stay
roomcount: 79 rooms
roomtype: ※ Room Type - Room with a bed
※ There is no difference in room rates between peak season and lean season.
scalelodging: 10 floors