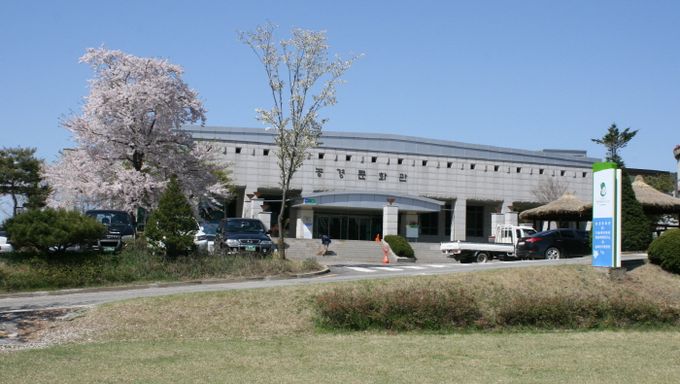 Introduction
Ganghwa Armiae World is a theme park with Ganghwa mugwort as its theme. The mugwort of Ganghwado Island is widely known for its great medicinal effects. Armiae means "creating beauty through mugwort." Armiae World provides its visitors with various opportunities to experience Ganghwa mugwort.
Mugwort Korean Beef Restaurant serves quality beef from cattle fed Ganghwa mugwort. The restaurant features a modern interior with beautiful views of the surrounding area. The Mugwort Experience Hall presents various mugwort-related experience programs such as a spa, foot bath, and sitz bath. The Agricultural Exhibition Hall provides a childrens' interactive experience about the value of farming, and the Onsaemiro Maze Park offers a history trip of Ganghwa greenhouses along the labyrinth. Other facilities include the Pottery Experience Hall, Ganghwa Agricultural Goods Sales Office, outdoor lawn square for events and picnics, and a processing plant for agricultural and indigenous products including mugwort.
Armiae World is located at the foot of Hyeolgusan Mountain, which is well-known for beautiful azalea flowers in the spring. Providing hands-on experiences in farming, Armiae World is emerging as a unique tourist attraction of Ganghwado Island.
Address:
742-2, Jungang-ro, Ganghwa-gun, Incheon[Google Map]
Closed:
Seollal (Lunar New Year's Day) & Chuseok (Korean Thanksgiving Day) holidays
Homepage:
www.armiae.com (Korean only)
How To Use
Parking Facilities:
Available (80 small car parking spaces, 10 large car parking spaces)
Transportation
[Bus]
Take Bus No. 3000 from Sinchon Station (Seoul Subway Line 2), Exit 4 to Ganghwa Bus Terminal.
From Ganghwa Bus Terminal Bus Stop, take Bus No. 700-1, Naega 31 (Ganghwa), or Naega 37 (Ganghwa) and get off at Agricultural Technology Service Center (Nongeop Gisul Center) Bus Stop.
Additional Info
Admission Fees:
Free
Available Facilities:
Mugwort-themed experience hall, exhibition hall, restaurant, parks, event hall, etc.
Facility Utilization Fees:
Fees vary by program
Restrooms:
Available
Parking Fees:
Free
zipcode: 23038
accomcount: 100 people
expagerange: Open to visitors of all ages
expguide: Mugwort experience, natural dying, natural soap making, etc.
infocenter: • 1330 Travel Hotline: +82-2-1330
(Korean, English, Japanese, Chinese)

• For more info: +82-32-930-4124,

+82-1577-2198, +82-32-937-9024
opendate: March 5, 2009
usetime: [Agricultural Exhibition Hall] 09:30-17:30
[Onsaemiro Maze Park] Summer 09:00-18:00 / Winter 09:00-17:00
[Armiae Mart] 10:00-18:00
[Mugwort Experience Hall] 10:00-18:00
[V-tree Experience Hall] 10:00-18:00
[Dondoldari Bapsang (restaurant)] 11:00-21:00