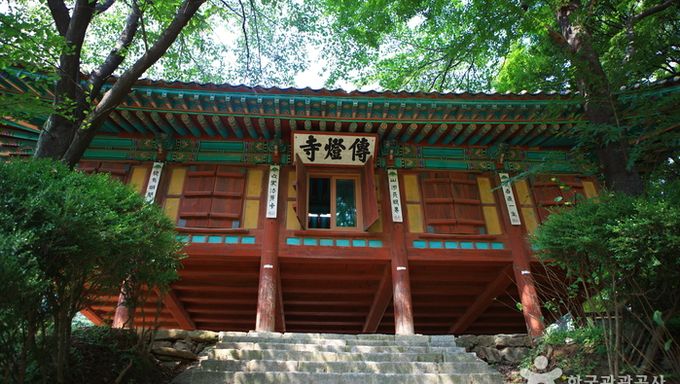 Introduction
Jeondeungsa Temple was originally called Jinjongsa during the Goryeo dynasty. It was used as a sanctuary that enshrined family ancestors.
Jeondeungsa Temple is located in Samrangseong Fortress, which is said to have been built by the three sons of Dangun, the founder of Korea.
Jeondeungsa Temple contains significant architectural works, including the main building Daeungbojeon Hall. Decorated with delicate carvings, it is a superlative example of the architecture of the mid-Joseon dynasty. The canopy situated above the Buddha statue inside Daeungbojeon Hall showcases masterful workmanship. On the walls and columns of Daeungbojeon Hall, visitors can see names of soldiers written on the walls. These soldiers fought against the French Navy and wrote their names in Jeondeungsa to pray to Buddha for good luck in war.
There are ten other structures of historical significance at the temple including Yaksajeon (Treasure No. 179), Beomjong Bell (Treasure No. 393, constructed in the 11th century), and Yangheonsu Victory Monument (Tangible Cultural Treasure No. 26). The compound is also home to many ancient trees.
Address:
37-41, Jeondeungsa-ro, Ganghwa-gun, Incheon[Google Map]
Closed:
N/A (Open all year round)
Homepage:
www.jeondeungsa.org (Korean only)
www.templestay.com (Korean, English)
How To Use
Parking Facilities:
50 parking spaces
Transportation
Sinchon Station (Seoul Subway Line 2), Exit 4.
Go 300 m forward and then take Bus 3100.
Get off at Jeondeungsa Temple Rear Gate bus stop.
Turn left at the sign for Jeondeungsa Temple Nammun, and then go for 200 m.
Additional Info
Parking Fees:
Small cars 2,000 won
Large-sized cars 4,000 won
Admission Fees:
Individuals - Adults 3,000 won / Teenagers 2,000 won / Children 1,000 won
Groups - Adults 2,500 won / Teenagers 1,500 won / Children 800 won
* Adults (ages 19 and older) / Teenagers (middle and high School) / Children (elementary school) / Free admission for preschoolers & younger
tel: +82-32-937-0125
telname: Jeondeungsa Temple
zipcode: 23050
expguide: [Temple Stay]
Hands-on type program / Retreat type program
* More inforation is available via the website or phone inquiry.
infocenter: • 1330 Travel Hotline: +82-2-1330
(Korean, English, Japanese, Chinese)
• For more info +82-32-937-0125
usetime: 07:30-18:30