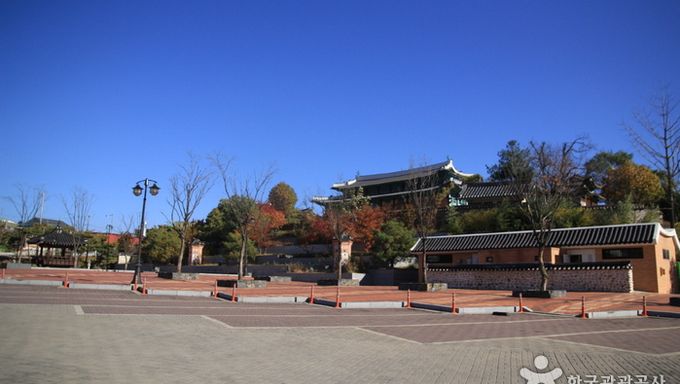 Introduction
Nadeul-gil means a leisurely outing (nadeuri) road. Comprised of 19 courses in total, the Ganghwa Nadeul-gil Trails offers a variety of historical assets and cultural sites to see. Each Nadeul-gil course connects Ganghwa Fortress outposts that are located every 1.3 km on high ground along the walking paths.
The trails are on the island of Ganghwa which holds many Goryeo Dynasty remains that are important to Korean history. Fortresses that stood against Mongolian invasions are still standing and many of the Goryeo Kingdom's palaces and royal tomb sites are also found in Ganghwa region.
Exploring the major cultural heritage sites dispersed throughout the town can be just as fun as exploring Ganghwa's natural beauty. The sunset from the west coast, expansive open mud flats, views from Marisan and Goryeosan Mountains and the peaceful farming villages are just a handful of the sights along this walking trail.
The establishment of Ganghwa Nadeul-gil begins with the ancient scholar Go Jae-hyeong (pen name Hwanam), who left his hometown on a spring day in 1906 when the peach trees were in full bloom. He walked through more than 100 villages around the whole island. Back home, he composed poems about his journey and published them under the title of "Simdo Gihaeng (Simdo Travels)," Simdo being another name for Ganghwa. During his travels, he sang songs of his hometown. Thanks to his work, people can now follow in the footsteps of Hwanam and his appreciation of the beautiful scenery and great people of Ganghwa Island.
[Ganghwa Nadeul-gil Course 1] Simdo History &Culture-gil Trail
Course 1 stretches over an 18km area between Ganghwa Bus Terminal and Gapgotdondae Fortification. The trail includes sites such as Yongheunggung Place, Ganghwahyanggyo Confucian Academy and an Anglican church. The course is an easy walk, with plenty of areas to stop and explore, as well as restaurants and convenience facilities for an enjoyable stroll.
Address:
24, Cheonghadong-gil, Ganghwa-gun, Incheon[Google Map]
Homepage:
www.nadeulgil.org (Korean only)
cafe.daum.net/vita-walk (Korean only)
Transportation
[Bus]
Take Bus No. 3000 bound for Ganghwa Bus Terminal from the bus stop at Sinchon Station (Seoul Subway Line 2), Exit 4.
Get off at the last stop (fare: 2,600 won for adults)
Additional Info
Tourism Course:
[Ganghwa Nadeul-gil Course 1] Simdo History & Culture-gil Trail
▲ Ganghwa Bus Terminal - Gapgotdondae Fortification
▲ Travel distance: approx.18 km
▲ Travel time: approx. 6 hrs
▲ Route: Ganghwa Bus Terminal - East Gate - Ganghwa Anglican Church - Yongheunggung Palace - Goryeo Palace Site - Bukgwanjemyo Shrine - Ganghwahyanggyo Confucian Acadamy - Eunsumul Mineral Spring - North Gate - Bukjangdae Command Post -Oeup Mineral Spring - Yeonmijeong Pavilion - Okgae Embankment - Gapgotseong Fortress Site - Gapgotdondae Fortification

▲ Stamping point
-Departure point: Tourist Information Center at Ganghwa Bus Terminal / Junseoksanghoe Shop
-Arrival point: Tourist Information Center at Gapgotdondae Fortification
tel: +82-32-934-1906
zipcode: 23033
infocenterleports: • 1330 Travel Hotline: +82-2-1330
(Korean, English, Japanese, Chinese)
• For more info: +82-32-934-1906