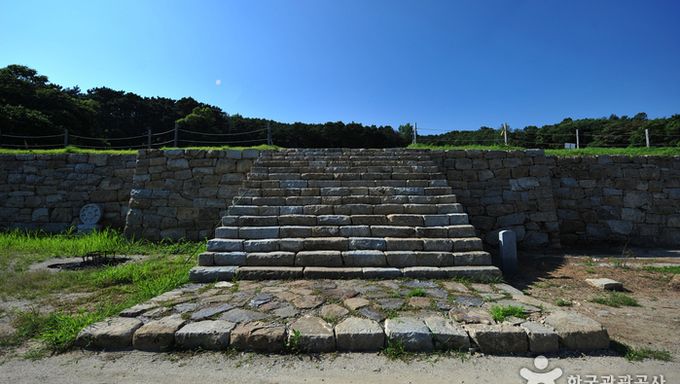 Introduction
Ganghwa Seonwonsa Temple Site was first discovered in 1976 during a surface examination around Ganghwado Island undertaken by the Ganghwado Island Academic Research Team of Dongguk University. The site was designated as Historic Site No. 259 in 1977. Seonwonsa Temple was built by General Choi Wu in 1245 (the 32nd year of King Gojong's reign during the Goryeo dynasty), which was right after the transfer of the capital to Ganghwado during resistance against the Mongolian invasion.
The temple was meant to be a spiritual mainstay in fighting against Mongolia. It used to be one of the two largest temples in Korea along with Songgwangsa Temple. However, the temple was completely destroyed during the early Joseon era, leaving only the site itself. The famous wood blocks of Palman Daejanggyeong (the Tripitaka Koreana), currently housed in Haeinsa Temple at Hapcheon, are said to have been originally stored in Seonwonsa Temple. It is believed that the carved wood blocks were taken from Seonwonsa to Heungcheonsa Temple during the Joseon era and again moved to Haeinsa Temple during the reign of Sejo.
Located on a mountain slope, the presumed location of the building site extends 250 meters from south to north and 170 meters from east to west.
Address:
222, Seonwonsaji-ro, Ganghwa-gun, Incheon[Google Map]
Homepage:
www.ganghwa.go.kr (Korean, English, Japanese, Chinese)
www.cha.go.kr (Korean, English, Japanese, Chinese)
Transportation
[Bus]
From Seoul to Ganghwa
1) Sinchon Station (Seoul Subway Line 2), Exit 4.
-Go
straight 260m to arrive at the bus stop in front of Artreon.
-From the bus
stop, take Bus 3000 to Ganghwa Bus Terminal.
2) Yeongdeungpo Station (Seoul Subway Line 1).
-Across from Shinsegae Department
Store, take Bus 88 to Ganghwa Terminal.
[Taxi]
From Ganghwa Bus Terminal, take
a taxi to Seonwonsa Temple Site (20min).
Additional Info
tel: +82-32-933-8234
zipcode: 23042
infocenter: • 1330 Travel Hotline: +82-2-1330
(Korean, English, Japanese, Chinese)

• For more info: +82-32-933-8234