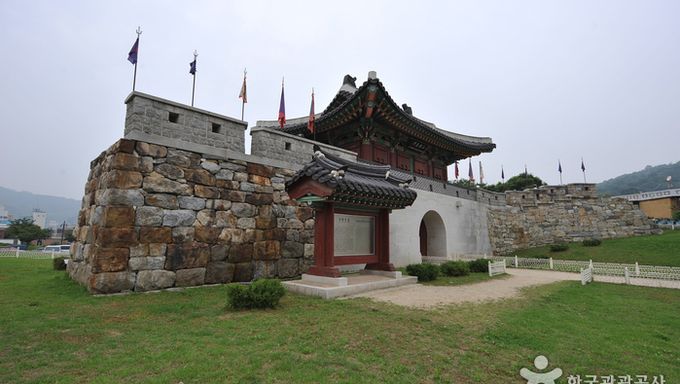 Introduction
Ganghwasanseong Fortress was originally earthen mountain walls, built during King Go Jong's 19th year of reign (1232), after he moved to Ganghwado. It was built to repel attacks from the Mongols. The inner castle was destroyed when the capital was moved to another place, and at the beginning of the Joseon Era (1392-1910) the wall was again rebuilt with mud.
It went through much restoration until finally being rebuilt with stones. Ganghwasanseong Fortress originally had interior and exterior walls, but only the interior wall remains today. It has an approximate circumference of 1.2km. The exterior mud wall was approximately 9km in circumference with 8 gates. The huge exterior wall was built along the side of the east channel of Ganghwa, but no longer exists today. From 1977, the interior wall has been rebuilt many times over, but the east side of this wall has yet to be reconstructed.
There were four main gates in the wall. To the south, Anparu; to the east, Cheomhwaru; to the west, Manghanru; and to the north, Jinsongru. At the west gate, the historic Yeonmudang still remains. This area was where the soldiers used to train, and was also the place where the Korea-Japan Treaty of Peace and Amity (or Treaty of Ganghwa Island) was signed in 1876.
With its aching history
left behind and beautiful scenery, Ganghwasanseong Fortress serves as an ideal place for a brisk walk or refreshing drive.
Address:
San 3, Gukhwa-ri, Ganghwa-eup, Ganghwa-gun, Incheon[Google Map]
Closed:
N/A (Open all year round)
Homepage:
www.ganghwa.go.kr/open_content/tour/
(Korean only)
cha.go.kr
(Korean, English, Japanese, Chinese)
How To Use
Parking Facilities:
Available (Free)
Transportation
[Train + Bus]

1. Sinchon Station (Seoul Subway Line 2), Exit 1.

- Go forward for 5 minutes towards the GS25 convenience store.

- Take bus no. 3000 to Ganghwa Intercity Bus Terminal.
2. Get off at Yeongdeungpo Station (riding KTX train).

Take bus no. 1 to Ganghwa Intercity Bus Terminal.

Or,
Take bus no. 88 to Ganghwa Intercity Bus Terminal.
From Ganghwa Terminal to Ganghwasanseong Fortress,
- Turn left at the front of Ganghwa-eup Guncheong 3-way street after walking for 10-min.
- Go about 20 meters to reach the destination.
Additional Info
Admission Fees:
Free
Restrooms:
Available
Interpretation Services Offered:
English (need to reserve in advance 032-930-4338)
addr2: Gukhwa-ri, Sinmun-ri, Gwancheong-ri & Namsan-ri
tel: +82-32-930-3626~7
zipcode: 417-800
infocenter: • 1330 Travel Hotline: +82-2-1330
(Korean, English, Japanese, Chinese)
• For more info: Cultural Heritage Administration of Korea:
+82-32-930-3626, 3627 (Korean, English, Japanese, Chinese),
Ganghwa Tourism Information Center:
+82-32-932-5464