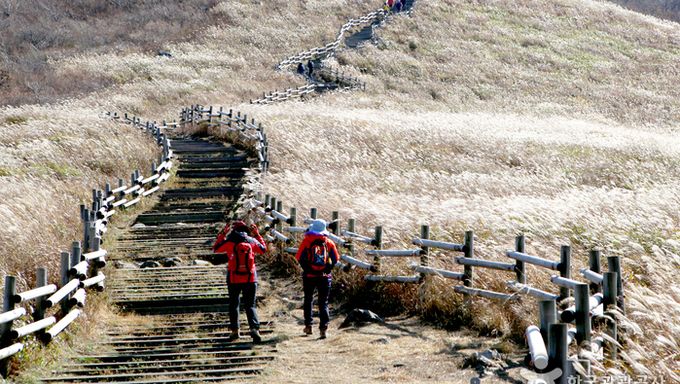 Introduction
Ganwolsan Mountain is a popular destination for hikers in the Ulsan and Busan area as well as other regions of Gyengsangnam-do Province. In early August, the reeds and lilies near the summit create a splendid view. To the west, the deep Naerijeong and Wangbonggol valleys channel clean water to Baenaegol Valley.
From the Ganwol Gogae Ridge, follow the Singallo Path to Wanbonggol towards Paraeso Falls. There you will find a cave called Jungnimgul, which is sacred Catholic ground often visited by the Catholic faithful. The first church built by Catholics in the Yeongnam region to escape persecution is found in Buldanggol (Ganwolgol) Valley in Ganwolsan Mountain area. The tomb of Kim Agatha who died in persecution is also in the Ganwolgol Valley.
Address:
614, Ganwolsan-gil, Ulju-gun, Ulsan[Google Map]
Transportation
From Ulsan Terminal, take Bus 323, 323-1 bound for Ganwolgyo Bridge(간월교).
* Bus schedule: 07:00, 08:10, 09 :40, 10:50, 12:50, 14:50, 16:50, 18:50, 19:50
Take a taxi to Ganwol Recreational Forest(간월자연휴양림) (9min).
From Dong Seoul Terminal (Gangbyeon Station, Seoul Subway Line 2), take an express bus bound for Ulsan(울산).
* Bus schedule: 06:00, 06:40, 07:20, 08:00, 09:00, 09:50, 10:40, 11:30, 12:00, 12:30, 13:10, 13:40, 14:20, 15:00, 15:30, 16:00, 16:40, 17:30, 18:20, 19:10, 19:50, 20:30, 22:00, 23:50
Additional Info
Mountain Not Access Period:
Seasonal Forest Fire Watches by Park
February 15 – May 15 / November 1 – December 15
* Subject to change based on fire weather advisories, snow/precipitation levels, and other local conditions.
Hiking Course:
[Course 1] Gangwolsanjang – Ganwoljae Pass - Summit
[Course 2] Baenaegogae Pass – Baenaebong Peak - Summit
[Course 3] Ganwoljanjang – Ganwolgongryeong Ridge – Helicopter Landing Pad - Summit
tel: +82-52-277-0101
zipcode: 44952
infocenter: • 1330 Travel Hotline: +82-2-1330
(Korean, English, Japanese, Chinese)
• For more info: +82-52-277-0101