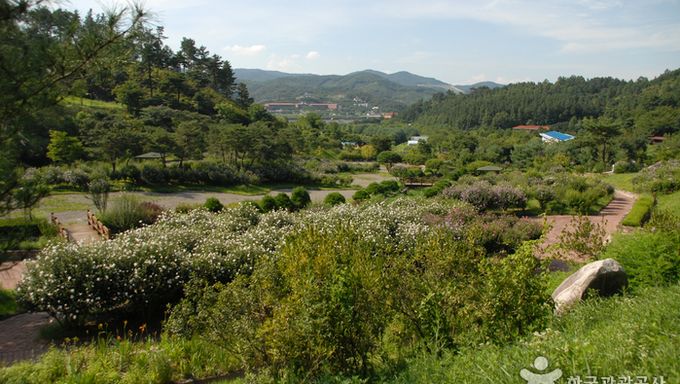 Introduction
Geumgang Recreational Forest is made up of mostly broad-leaved trees. From the forest, visitors can overlook Geumgang River which is in the heart of Chungcheongnam-do. In addition, there are various facilities such as a forest museum, an arboretum, a greenhouse, an animal village, a wild flower garden, a pond, and a pavilion, and more that make this one of the biggest forest culture recreational and educational sites in Korea. In particular, the building of the Forest Museum is modeled in the traditional architectural style of the Baekje Dynasty. There are six exhibition rooms, each with a different theme. About 3,000 pieces of forest-related materials are on display, and real-sized models of the ginkgo trees of Geumsan Mountain, the shrine trees of Gongju, and the pine trees of Anmyeondo Island. The big greenhouse has a glass dome and houses tropical and subtropical plants. The Wild Animal Village features Asiatic Black Bears, wild boars, mandarin ducks, and eagles.
Address:
110, Sallimbangmulgwan-gil, Geumnam-myeon, , Sejong-si[Google Map]
Closed:
Every first Monday of the month
Homepage:
www.keumkang.go.kr (Korean only)
How To Use
Parking Facilities:
Available
Transportation
[Bus]
1. From Seoul
Nambu Bus Terminal, take an intercity bus to Gongju (공주).
(Bus Schedule:
06:30-20:30, 10-20min intervals)
2. From Seoul Express Bus Terminal,
take an intercity bus to Gongju (공주).
(Bus Schedule: 06:05-23:05,
15-45min intervals)
3. From Gongju Bus Terminal, take Bus 580 to the
Forest Museum (산림박물관, Sallim Bangmulgwan).
(Bus Schedule: 06:30, 09:00,
11:10, 16:10, 18:00)
* The listed bus times are subject to change.)
Additional Info
Admission Fees:
Adults: 1,500
won / Group: 1,300 won
Youths: 1,300 won / Group: 1,100 won
Children:
700 won / Group: 500 won
* Group: 30 people or more
* Free admission:
Infants (under 6) & Seniors (over 65)
Available Facilities:
The Forest
Museum, zoological garden, arboretum, wild flower garden, pond, observatory,
accommodations, grass plaza, hiking trail, water play area, sports facilities,
outdoor classroom
Facility Utilization Fees:
[Forest Cabin]
56,000~110,000 won
[Forest Recreational Hall]
56,000~260,000won


4,000 won
Restrooms:
Available
Parking Fees:
Compact cars:
1,500 won
Small cars: 3,000 won
Large vehicles: 5,000 won
Reservation Info. for Foreigners:
* Reservations will be automatically cancelled, if the payment is not made within 3 days after the reservation.
tel: +82-44-850-2686, 2690
zipcode: 30085
accomcount: 2,000 people a day
infocenter: • 1330 Travel Hotline: +82-2-1330
(Korean, English, Japanese, Chinese)

• For more info: +82-41-635-7400
opendate: October 31, 1997
usetime: [Accommodations] Check in 14:00 / Check out 11:00 (next day)
[Arboretum]
March-October 09:00-18:00
November-February 09:00-17:00
* Last admission 1 hour before closing