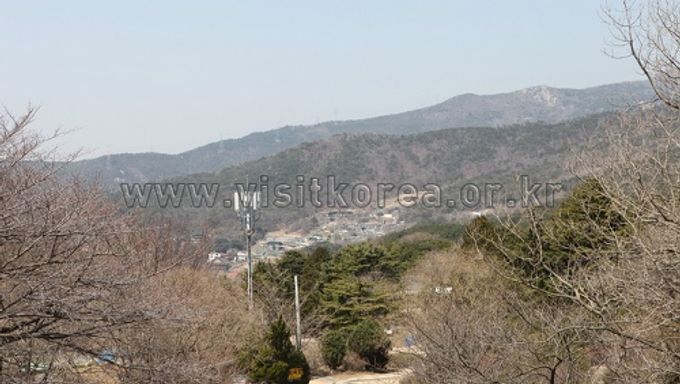 Introduction
Geumjeongsan Mountain was created by an overflow of magma approximately 70 million years ago. Over time, rain and wind shaped the mountain to what it is now, with gentle slopes and unique rock formations. The mountain features various walking trails and historical attractions, such as Beomeosa Temple and Geumjeongsanseong Fortress.
Address: 
Geumseong-dong, Geumjeong-gu, Busan[Google Map]
Homepage: 
www.busan.go.kr/geopark (Korean, English)
Transportation
[Subway+Bus]
Beomeosa Station (Busan Subway Line 1) Exit 5 or 7
Walk to Samsin Bus Stop (삼신정류장).
Take Bus 90 to Beomeosa Temple Ticket Office.
Additional Info
Hiking Course: 
* Course 1 (8 km, 3 hr 30 min) Busan Nat'l Univ. - Gobyeoldae Cliffs - Dongmun Gate - Buchaebawi Rocks - Bungmun Gate - Geumjeongsan Mountain
* Course 2 (7 km, 2 hr) Dongnae - Mandeokgogae Hill - Seokbulsa Temple - Sanggyebong Peak
* Course 3 (6 km, 2 hr) Geumgang Park - Nammun Gate
- Sanggyebong Peak
* Course 4 (6 km, 2 hr) Busan Nat'l Univ. - Dongmun Gate - Sanggyebong Peak
* Course 5 (6.5 km) Beomeosa Temple - Bungmun Gate - Dongmun Gate
* Course 6 Botanical Garden - Dongmun Gate - Bungmun Gate - Beomeosa Temple
* Course 7 (8 km, 2 hr 40 min) Jung-ri (Sanseongmaeul) - Gukcheongsa Temple - Bungmun Gate - Godangbong Peak
Available Facilities: 
Mountain cabin, cable car, camping site
tel: +82-51-888-3636
zipcode: 46237
infocenter: • 1330 Travel Hotline: +82-2-1330
(Korean, English, Japanese, Chinese)
• For more info: +82-51-888-3636