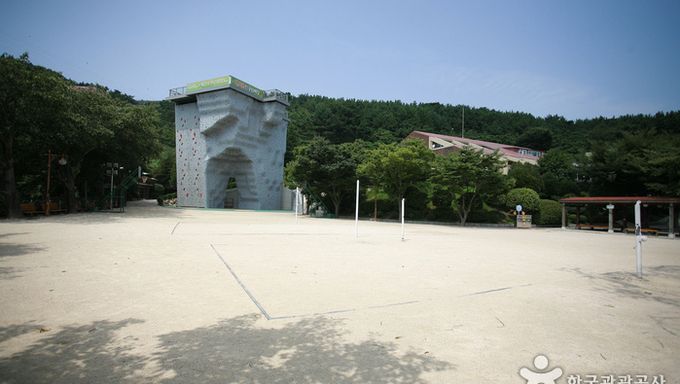 Introduction
Located on Geumnyeonsan Mountain in the heart of Busan, Geumnyeonsan Youth Training Institute is a youth center managed directly by Busan Metropolitan City. Surrounded by a wonderful natural landscape, the institute also functions as a place to relax for the general public. Its main facilities include a youth campground, dormitories, an astronomy observatory, an auditorium, and a fitness center. There is also a promenade and a wisteria-lined path, so the institute is a place of both learning and relaxation. The institute consistently provides a variety of programs designed to develop the mind and body such as summer and winter camps, writing contests, drawing competitions, and more.
Address:
156, Hwangnyeongsan-ro, Suyeong-gu, Busan[Google Map]
Homepage:
youth.busan.go.kr (Korean only)
Transportation
[On foot]
Geumnyeonsan Station (Busan Subway Line 2), Exit 6.
Go straight and take a right at the first alley.
Go straight until you
see the Nam Busan Post Office Distribution Center.
Then, take a left for about 32m and take a right at the three-way intersection.

When you see Busan Joongang Presbyterian Church (부산중앙교회), keep walking along the trail for about 1.31 km to reach the venue.
Additional Info
Program Activities:
* Physical fitness activities, emotional cultivation activities, natural science activities, traditional culture activities, health and safetly activities, recreational activities.
* Refer to more information on the official website.
Main Facilities:
Accommodation facilities: Living Hall, Log Cabin
Training facilities: Busan Citizen's Observatory, planetarium, physical training facilities, pottery work shop, Haeoreum artificial rock climbing wall course, traditional culture experience hall
Other facilities: Small meeting room, outdoor stage, large auditorium
Convenient facilities: Living Hall Restaurant, outdoor experience hall, parking lot
tel: +82-51-625-0709
zipcode: 48259
infocenterleports: • 1330 Travel Hotline: +82-2-1330
(Korean, English, Japanese, Chinese)
• For more info: +82-51-625-0709
parkingfeeleports: Paid parking lot
parkingleports: Available
reservation: * youth.busan.go.kr
* Tel: +82-51-610-3221