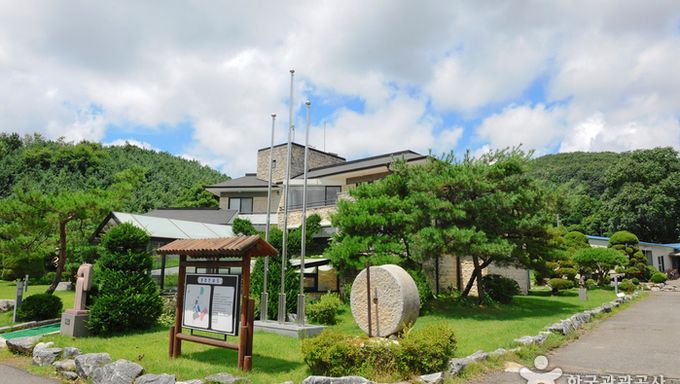 Introduction
The Gimpo Tea Etiquette Museum is a private museum where you can learn about the history of Korea's tea culture ('dado' means tea ceremony in Korea). As many as 3,000 tea ceremony utensils are on display within the museum, and outside lies a sculpture park and an open-air installation art museum. The museum also has various auxiliary facilities for holding cultural events and performances. There is a pond, a spacious lawn, and a pavilion where visitors can learn about Korea's traditional culture and ethics in a natural setting. Visitors can enjoy a hands-on experience, learning the etiquette of tea culture in Korea.
Address:
187-49, Aegibong-ro 275beon-gil, Gimpo-si, Gyeonggi-do[Google Map]
Homepage:
cafe.daum.net/iyemyung (Korean only)
How To Use
Admission / Participation Fees:
[Adults]
Individuals 5,000 won / Groups 4,000 won
[Students]
Individuals 4,000 won / Groups 3,000 won
[Infants/Toddlers]
Individuals 3,000 won / Groups 2,000 won
* Groups of 20 people or more
Parking Fee:
Free
Structure Size:
Land area 33,058㎡
Building area 347㎡
Transportation
Take a bus for Ganghwa at the bus stop across the street from the Sinchon cross-country bus terminal or the Shinsegae department store at Yeongdeungpo station.
Get off at Gunha-ri and take a taxi for five-minutes.
Additional Info
Collections Status:
* Ceramics: White porcelain, celadon porcelain, earthenware, etc.
* Metal exhibits: Brazier, cooking stove, rouge container, etc.
* Paintings and writings: Dongdasong folding screen that depicts a tea ceremony; folding screen portraying flowers; engraved seal, etc.
* Woodenware: Small table for refreshments to be served in a boudoir; small table for refreshments used by male scholars; octagonal table; yeonsang table; flat bench made from white paulownia tree, etc.
* Embroidery: Embroidered uigeori wardrobe (pair), wardrobe embroidered with flowers (pair), box, chest of drawers, square table, etc.

Industry Information:
1) Exhibition – Special exhibitions in addition to the permanent exhibition of tea ceremony utensils.
2) Event – Cultural exchange among Korea, China, and Japan; Lotus Festival; outdoor tea ceremony; hands-on experience, etc.
3) Education – Dado Museum's culture university, classes in etiquette and tea ceremony.
4) Free education and special lecture – Special lectures on 'etiquette and tea ceremony' and 'how to prepare a table for the ancestral memorial service for lunar New Year's Day and Chuseok' are held during summer and winter vacations.

Program Information:
* Tea ceremony experience: Individual tea ceremony table (hands-on experience of how to brew and drink tea), and a comparison of the tea ceremonies of Korea, China and Japan.
* Traditional folk games: Tuho (throwing sticks into a barrel), yut (board game), jegi (playing shuttlecock with the feet), neol (seesawing), rolling a hoop, making dasik (pattern-pressed candy), etc.
* Korean culture: Learn how to bow and how to wear traditional Korean clothes and accessories.
* Coming-of-age ceremony: Experience coming-of-age-ceremonies for boys and girls, and compare the ceremonies of the past and present
Wedding culture: Man and women can wear traditional wedding clothes (men-officials' garb and hat, women-wonsam dress, headpiece, hwarot dress, etc.) and experience a traditional wedding ceremony.
* Preparing ancestral memorial service tables: Learn how to prepare a table for ancestral memorial service for lunar New Year's Day and Chuseok (harvest holiday) and the differences between holiday tables and memorial service tables (Tuition: 10,000 won per person (no fee charged for 100 or more). It takes two hours for all four sets to be demonstrated).

Reservations:
Available via phone call +82-31+998+1000
tel: +82-31-998-1000
zipcode: 10003
accomcountculture: 1,000 people
infocenterculture: • 1330 Travel Hotline: +82-2-1330
(Korean, English, Japanese, Chinese)
• For more info +82-31-998-1000
parkingculture: Available
restdateculture: Mondays
usetimeculture: March-October 10:00-18:00
November-February 10:00-17:00