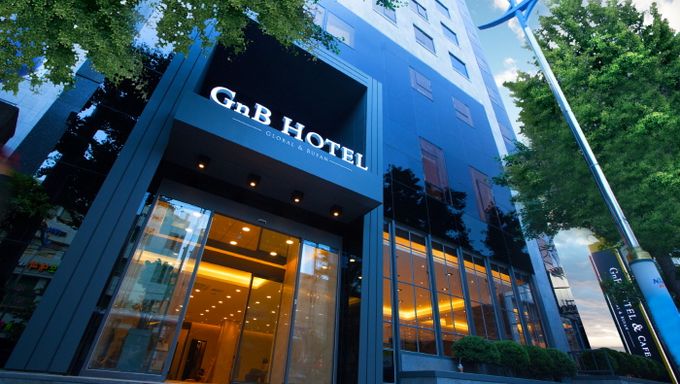 Introduction
Opened in July 2017, GNB Hotel in Bupyeong-dong 3-ga road in Jung-gu, Busan is a business hotel with 100 rooms. Very conveniently located close to Busan Station, Passenger Terminal, and Gimhae Airport, it's a popular choice to stay among those coming from other countries as well as other cities in Korea. It has nine different room types, including Standard Double, Deluxe Twin, and Family Twin. The beds in the room are bigger than average. With its modern interior and friendly service, the hotel is ranked high in terms of the number of favorable comments. Nearby tourist destinations include Kkangtong Market, Gukje Market, BIFF Street, Bosudong Bookstore Alley, Gamcheon Culture Village, Songdo Cable Car, Jagalchi Market, and Yongdusan Park.
Address:
19, Heukgyo-ro, Jung-gu, Busan[Google Map]
Homepage:
Transportation
Available
Additional Info
tel: +82-10-7682-0923
telname: Kim Dong-wook
zipcode: 48976
accomcountlodging: 10 floors and 4 basement floors
checkintime: 15:00 (high-season:16:00)
checkouttime: 11:00
chkcooking: N/A
foodplace: Yes
infocenterlodging: • 1330 Travel Hotline: +82-2-1330
(Korean, English, Japanese, Chinese)
• For more info: +82-51-243-5555
parkinglodging: Yes
pickup: N/A
reservationlodging: Available (+82-51-243-5555, www.gnbhotel.com)
reservationurl: www.agoda.com, www.expedia.co.kr, www.booking.com, www.hotelscombined.co.kr, www.hanatour.com, www.hanatour.com, www.hotelgoto.com, www.hoteltime.co.kr, www.coupang.com, http://hottel.kr, www.wemakeprice.com, www.webtour.com, www.ctrip.co.kr, home.saletonight.com, www.hotelnjoy.com, corp.dailyhotel.
roomcount: 100
roomtype: ※ Room Type - Room with a bed(s)
scalelodging: Approx. 350 persons
subfacility: Seminar Room, Food & Beverage Facility, Public PC Room