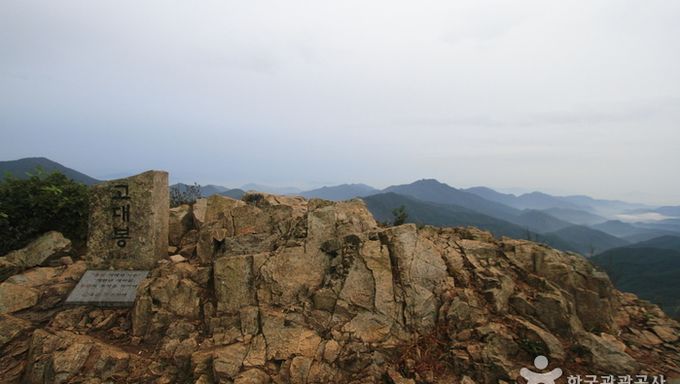 Introduction
Godaesan Mountain (832
meters) is located next to Sintalli Station, which is the railroad disconnection
point of the Gyeongwon Line. It is also on the way to Geumgangsan Mountain.
Godaesan is ideal for mountain hiking because of its natural beauty and well-preserved
ecosystem. Moreover, this is the only mountain in South Korea on which the North Korean territory can be seen.
There are several theories about the origin of the mountain's name.
One is that the mountain had been referred to as "keungore" (big
whale) in the past by local residents. Another is that the mountain looks like the
banggorae (smoke duct) of a Korean traditional heating system when seen from
the Sintan area; this is because the mountain's deep valleys resemble the furrows
under that house that facilitate the passage of hot air to heat the room above.
On a topographic map, the mountain was also marked as "Gotae" (like
the constellations high above).
Godaesan also has a dense forest, making
it a suitable source of timber and charcoal. Because of its abundant forest
resources, a jumak (a tavern or inn that served food and liquor and
provided lodging to travelers) village was formed here. The place was well-known for
charcoal production prior to the Korean War.
On November 4, 1907, 150 soldiers from the Korean militia fought a fierce battle with the 8th Company of the Japanese
Army's 20th Infantry Regiment in Yeoncheon. After the fight, the Korean militia
were scattered throughout the jumak village. Later on, 60 of them engaged in a
fierce battle again with
the Japanese soldiers on Godaesan. This is a place imbued with the brave spirit of the Korean people.
Address:
3282-108, Pyeonghwa-ro, Sinseo-myeon, Yeoncheon-gun, Gyeonggi-do[Google Map]
Closed:
N/A (Open all year round)
Homepage:
tour.yeoncheon.go.kr/
(Korean, English, Japanese, Chinese)
How To Use
Parking Facilities:
Available
Transportation
Sintan-ri Station (Gyeongwon Line)
Godaesan Mountain is just next to the station.
Soyosan Station (Seoul Subway Line 1), Exit 1.
Cross the street and take Bus 39-2 and get off at the entrance of Godaesan Mountain (64 bus stops
away).
Additional Info
Mountain Not Access Period:
Every Feburary 1 to May 15 (spring season) / Every November 1 to December 15 (fall season)
* The restricted period is subject to change.
Areas Open to the Public:
Parking lot - Keumgol - Peak (4km)
Gunbudaejari - Falls - Peak (3km)
Parking lot - Kalbawi - Peak (3km)
Hiking Course:
Course 1: Parking lot of Godaesan Mountain - Entrance to No. 1 hiking route - Keungol - Munbawi - Daegwangbong Peak - Samgakbong Peak - Godaesan Mountain summit
Course 2: Parking lot of Godaesan Mountain - Entrance to No. 2 hiking route - Maldeungbawi - Kalbawi - Samgakbong Peak - Godaesan Mountain summit
Course 3: Parking lot of Godaesan Peak - Entrance to No. 3 hiking route - Pyobeom falls - Maaul - Godaesan Mountain summit
Admission Fees:
Free
Restrooms:
Available
tel: +82-31-834-3064
zipcode: 11001
infocenter: • 1330 Travel Hotline: +82-2-1330
(Korean, English, Japanese, Chinese)
• For more info: +82-31-839-2061