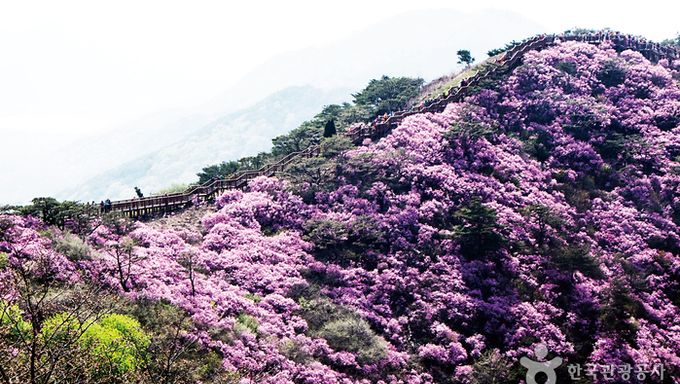 Introduction
Goryeosan Mountain, once referred to as Oryeonsan, is a mountain rich in folklore. Legend has it that in the year 416 (during the reign of King Jangsu of Goguryeo), a Buddhist monk named Cheonchukguk climbed Goryeosan Mountain and found Oryeonji Pond where the five-colored lotus flowers bloomed. The monk picked the lotus flower petals and blew them into the air. He then built a temple where each of the petals had landed, naming the temples according to their corresponding color: Jeokseoksa, formerly Jeokryeonsa Temple (red lotus), Baengnyeonsa Temple (white lotus), Cheongryeonsa Temple (blue lotus), Hwangryeonsa Temple (yellow lotus), and Heungnyeonsa Temple (black lotus).
Around 130 dolmens are distributed along the foot of Goryeosan Mountain. Sirumisan Mountain, on the northern side of Goryeosan Mountain is said to have been the birthplace of General Yeongaesomun of the Goguryeo Kingdom.
Address:
Gocheon-ri, Naega-myeon, Ganghwa-gun, Incheon[Google Map]
Homepage:
tour.ganghwa.incheon.kr (Korean only)
Transportation
[Bus + Subway]
From Seoul to Ganghwa

1) Sinchon Station (Seoul Subway Line 2), Exit 4.

Go straight 260m to arrive at the bus stop in front of Artreon.

From the bus stop, take Bus 3000 to Ganghwa Bus Terminal.
Approx. 2hr 30min
2) Yeongdeungpo Station (Seoul Subway Line 1).
Across from Shinsegae Department Store, take Bus 88 to Ganghwa Terminal.
Approx.
2hr 30min
From Ganghwa Bus Terminal
1) Baengnyeonsa Temple (백련사)
-
take local
bus 1, 23, 25, 27, 30, 32 or 35 and
get off at Dolmen Square.
Or, take local bus 33 and get off at the entrance
of Baengnyeonsa Temple.
Approx. 50min
2) Cheongryeonsa Temple (청련사)
-
take local bus 36
or 38 and get off at the entrance of Cheongryeonsa Temple.
Approx. 40min
Additional Info
tel: +82-32-930-3515
zipcode: 23018
infocenter: • 1330 Travel Hotline: +82-2-1330
(Korean, English, Japanese, Chinese)

• For more info: +82-32-930-3515