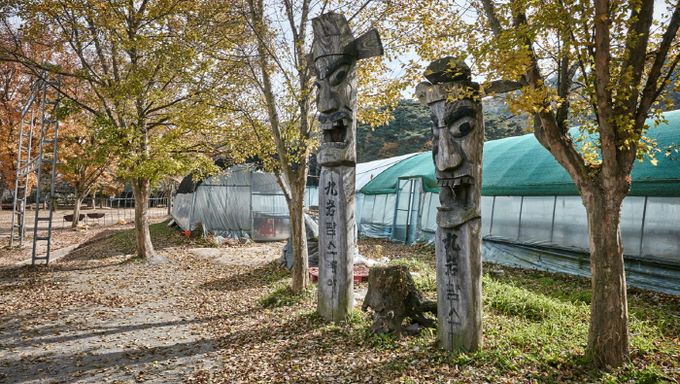 Introduction
Guam Farm Stay Village is located near the city so it is easy to find and is well-equipped with cultural facilities. Some rocks in the area resemble the back of a turtle so it is referred to as "Guam". ('Gu(龜)' means turtle (geobuk) and 'Am (岩)' means rock (bawi))
Farming experiences start from the time when cherry blossom are about to be in full bloom along the road surrounding the foot of Palgongsan Mountain. Visitors can take part in planting various vegetable seeds, thinning out the apple trees, rice reaping, and pulling out beans.
The village is abounding in fruits, including apples, grapes, peaches, and chestnuts.
Among the many hands-on programs, picking apples and chestnuts has already became famous activities for nearby kindergarten students. To facilitate the farm stay program, Nonghyup operates a weekend farm, where one can grow and taste vegetables such as lettuce and chili.
Address:
8, Guam-gil, Dong-gu, Daegu[Google Map]
Closed:
N/A (Open year-round)
Homepage:
www.gooam.com (Korean only)
How To Use
Parking Facilities:
Available
Transportation
[Train]
Take a train from Seoul Station to Dongdaegu Station.
[Local Bus]
Take Rapid Bus 1 from the bus stop behind Dongdaegu Station and get off at Guam-dong2 Bus Stop.
[Taxi]
Approx. 20 min from Dongdaegu Station.
Additional Info
Available Facilities:
Accommodations
Restrooms:
Available
tel: +82-53-984-5273
zipcode: 41013
expguide: [Hands-on activities related to agricultural products]
Picking strawberries, plums, cherry tomatoes, sweet persimmons, apples, and chestnuts, digging for potatoes and sweet potatoes.


[Traditional food experience]
Making and eating tofu/ kal-guksu / injeolmi / songpyeon / sujebi / kimchi / oven pizza, eating roasted sweet potatoes, making gukhwa-ppang bread, jam / enzyme / sweet jelly of red beans, and Korean traditional sweets and cookies.


[Ecology experience]

Planting wild flowers, chilli, and rice, picking loaches, walking the paddy fields and flower fields.


[Play activities]

Riding tractors, dyeing the string of paengi and top-spinning, watergun fight, archery, etc.


[Crafts experience]
Dyeing in natural ingredients, making natural soap, hanji crafts, copperplate crafts, making pine humidifier, making a munpae (doorplate), etc.
* Programs are subject to change depending on conditions.
infocenter: • 1330 Travel Hotline: +82-2-1330
(Korean, English, Japanese, Chinese)
• For more info: +82-53-984-5273