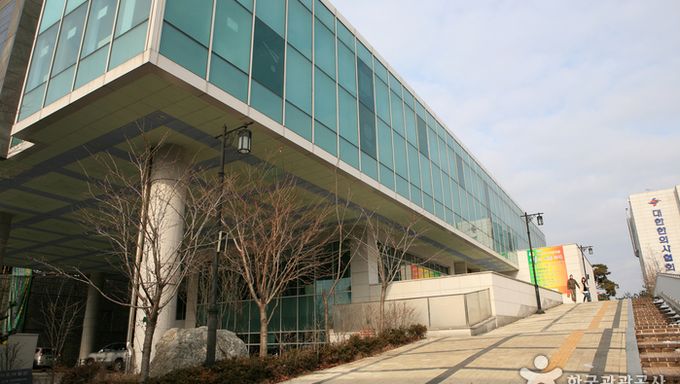 Introduction
Guam Park is located in the area around Heogabawi Rock, a natural rock cave beneath Tapsan Mountain. It is said that Heo Seon-mun, the forefather of the Yangcheon Heo clan, was born here. The park was built to commemorate Heo Jun, a widely known physician from the Joseon era who used the penname Guam. It is said that after retirement, Heo Jun came to Heogabawi Rock to compile the famous medical book Dongui Bogam.
A part of the Hangang River here was turned into a lake due to the construction of the Olympic Expressway and high-rise apartments surrounding the park. There is a statue of Heo Jun treating a patient
and in the lake, there is a purple-colored rock with holes called Gwangju Rock. Before the construction of the Yanghwadaegyo Bridge, this area used to be where visitors would take a ferry (Gongam Ferry) to cross the other side.
Heogabawi Rock, which is wide enough to accommodate about 20 men, is said to be where people took refuge during wars. Gwangju Rock and Heogabawi Rock is the site of Jechapaeui (the rock where rituals were offered to the God of the Earth and the God of Crops during the Hanseong Baekje period). This was also the first historical name given to this area.
Address:
42, Heojun-ro 5-gil, Gangseo-gu, Seoul[Google Map]
Closed:
N/A (Open all year round)
Homepage:
parks.seoul.go.kr (Korean, English, Japanese, Chinese, Spanish, French)
How To Use
Parking Facilities:
Available
Transportation
[Subway]
Gayang Station (Seoul Subway Line 9), Exit 1.

Go forward for 70m, cross the street, and take a right.

Continue for 290m, cross the street, and walking for another 270m.

Turn right at Topsan Elementary School and walk for about 146m to reach the park.
Additional Info
Available Facilities:
Pond, pavilion, children's playground, music fountains, statue of Heo Jun, etc.
Restrooms:
Available
tel: +82-2-2600-4183
zipcode: 07525
infocenter: • 1330 Travel Hotline: +82-2-1330
(Korean, English, Japanese, Chinese)
• For more info: +82-2-2600-4183
opendate: October 31, 1993