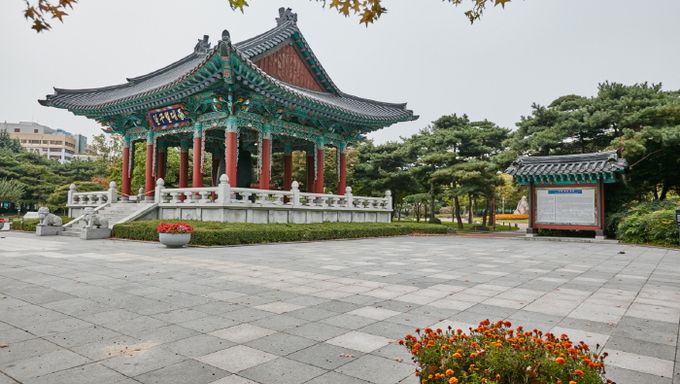 Introduction
Construction on Gukchaebosang Memorial Park began in March 1998 and was completed in December 1999. The park was established to retain the spirit of the National Debt Remuneration Movement (a national movement that originated in Daegu in 1907) and to help overcome the debt crisis of 1997. The park also expanded the green space in the downtown area and offer a place of rest and relaxation to the general public.
Spanning 42,500 square meters in size, the park boasts the Dalgubeol Grand Bell, a bell pavilion, walking trails, and other amenities. The famous Dalgubeol Grand Bell was installed on the park grounds in December 1998 as a representation of harmony and prosperity and to symbolically awaken the people with its pure and clear ringing.
The park has an ample parking lot (3 underground floors) and is frequented by students who study at the Central Library located within the park. Gukchaebosang Memorial Park is also a popular destination for couples because of its proximity to the Daegu downtown area. As one of the most recently established parks in Daegu, the park boasts thousands of trees, a large grass plaza, and plenty of benches and resting areas. The beautiful fountains, pavilion, and stone artworks add to the charms of the park. The park hosts diverse cultural events such as music concerts and exhibitions and draws many visitors every Saturdays and Sundays for the ceremonial ringing of the Dalgubeol Grand Bell.
Address:
670, Gukchaebosang-ro, Jung-gu, Daegu[Google Map]
Homepage:
www.gukchae.com (Korean only)
How To Use
Parking Facilities:
Dongin Underground Parking Lot
Transportation
[Subway]
Gyeongdae Hospital Station (Daegu Subway Line 2), Exit 1.
Walk approx. 10 min from the station.
Additional Info
Available Facilities:
Dalgubeol Bell, library (B1 - 5F), electronic display, fountain, pavilion, benches, grass square
tel: +82-53-745-6753
zipcode: 41939
infocenter: • 1330 Travel Hotline: +82-2-1330
(Korean, English, Japanese, Chinese)
• For more info: +82-53-745-6753