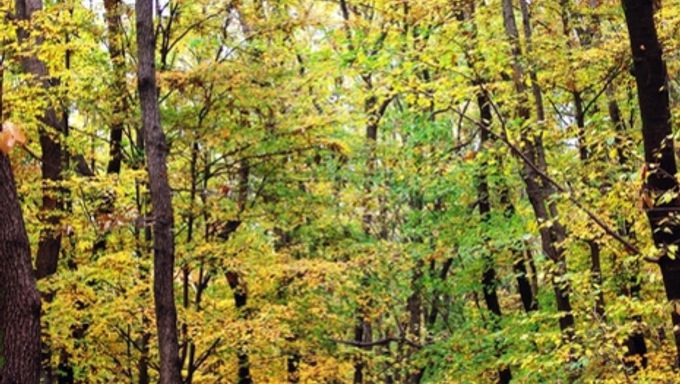 Introduction
At 632.2 meters in x_height, Gwanaksan Mountain is the symbol and pride of Gwanak-gu district in Seoul. Most of the cultural heritages of the district originate from Gwanaksan Mountain. Since it was designated as a city natural park in 1968, it has continued to serve as a favorite place for relaxation and excursion for Seoul citizens. The various rocky peaks and the deep valleys give the mountain a rugged feel. The mountain's size and close proximity to Seoul make it easy for Seoul residents
to visit in a single day.
In the spring, cherry blossoms are in full bloom near the entrance to the mountain, and a Rhododendron Festival is held when the rhododendrons are in full bloom. At the mountain's summit are Wongaksa Temple and Yeonjuam Hermitage, which were built by Taejo Yi Seong-gye (the founder of the Joseon dynasty) to ward off misfortune when he decided to move the capital to Seoul. There are also other temples and hermitages, and a ground radar observation post. Yeonjudae Hermitage, located atop a cliff, is where all the hiking trails of Gwanaksan Mountain meet.
Address:
Gwanak-ro, Gwanak-gu, Seoul[Google Map]
Closed:
N/A (Open all year round)
Homepage:
www.gwanak.go.kr (Korean, English)
How To Use
Parking Facilities:
Available
Transportation
[Bus]
Take Bus 501, 5412, 5515, 5516, 5517, 5528, 5614, 6512, 6513, or 6514.
- Get off at Seoul National University Entrance bus stop.
[Subway]
Seoul National University Station (Seoul Subway Line 2), Exit 3.
- Transfer to any bus bound for Seoul National University Entrance bus stop (서울대입구).
Additional Info
Hiking Course:
Course 1
(4.5km,
140min): Gwaneumsa Temple Ticket Box → Dwaejibawi Rock → Yeonjudae
Course 2
(1.4km,
30min): 1st Square → Acacia Dongsan Hill → Ogyucheon
→ Sujung Dongsan Hill → 4th Campground
Course 3 (2km,
80min): 4th Campground → Yeonjusaem Spring → 3rd Ggalddak
Hill → Yeonjuam Rock → Yeonjudae
Course 4 (0.9km,
15min): 4th Campground → Yongcheonsu → Jeolgu Mineral Spring →
Samgeori (3-way Jun.) → Muneomi Hill
Course 5 (1.9km,
65min): 2nd Square → Royal Azalea Dongsan Hill →
Samakjeong → Samgeori (3-way Jun.) → Ggalddak Hill
Course 6
(0.8km, 25min): Royal Azalea Dongsan Hill → 2nd Ggalddak Hill →
4th Campground
Course 7 (2.8km, 70min): Senior's Zone → Dolsan →
Yongamcheon → Gukgibong → 1st Campground
Course
8 (1.5km, 55min): Hwalteo → 3rd Campground → 2nd Campground → 1st Campground
Course 9 (1.4km, 50min): Samseongsan Mt. → Seongji (Holy Land) → Samho Mineral
Spring → Songam Mineral Spring → 1st Campground
Course 10 (1.2km, 40min): Samgeori Mineral Spring → Geobukbawi Rock → Sammaksa
Temple
Available Facilities:
Lake Park, snack bar, restaurants
Restrooms:
Available
tel: +82-2-879-6521
zipcode: 08826
infocenter: • 1330 Travel Hotline: +82-2-1330
(Korean, English, Japanese, Chinese)

• For more info: +82-2-879-6521