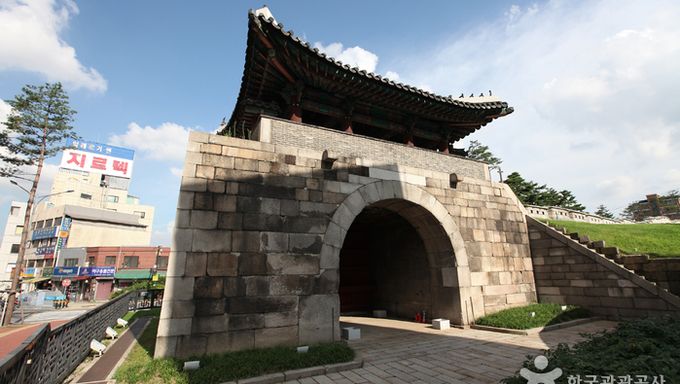 Introduction
Gwanguimun Gate is said to be originally constructed in 1396, the 5th year of King Taejo, southeast of the capital city (Seoul). It was often referred to as Sugumun Gate (water channel gate) and was actually used as a Sigumun, literally meaning "corpse gate", as funeral processions passed through this gate when exiting to the east.
During the Imjin War (1592-1598), the fortress gate was destroyed to such a degree that it made finding the original location close to impossible. Nevertheless, reconstruction efforts were started in 1711 (37th year of King Sukjong) and the water channel gate was restored and a gate tower built. Gwanghuimun Gate remained intact even when the fortress walls were demolished to build tram tracks during the Japanese occupation, but it was damaged during the Korean War and left neglected. In 1975, restoration work was carried out to relocate Gwanghuimun Gate to a site 15 meters south of its original location since it stood in the middle of the road.
Address:
344, Toegye-ro, Jung-gu, Seoul[Google Map]
Closed:
N/A (Open all year round)
Homepage:
www.junggu.seoul.kr (Google translator available)
How To Use
Parking Facilities:
Not available
Transportation
[Subway]
Dongdaemun History & Culture Park Station (Seoul Subway Line 2, 4, 5), Exit 3.
Gate is across the street to the right.
Additional Info
Admission Fees:
Free
Restrooms:
Not available
Interpretation Services Offered:
Not available
zipcode: 04614
infocenter: • 1330 Travel Hotline: +82-2-1330
(Korean, English, Japanese, Chinese)
• For more info: +82-2-3700-3900,
+82-2-3700-3901,
+82-2-3396-5841
usetime: Open 24 hrs