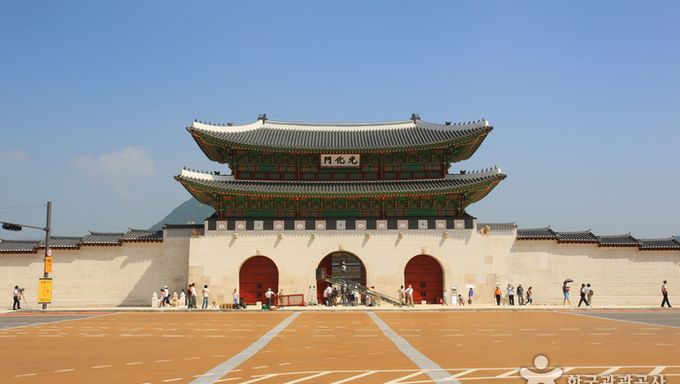 Introduction
Built in 1395 under the reign of King Taejo, the first king of the Joseon Dynasty, Gwanghwamun Gate is the southern gate of Gyeongbokgung Palace. It is also the main gate of the palace, therefore larger and fancier in comparison to the other gates. Gwanghwamun Gate consists of three arched gates; the center gate was used by the king, while the other two were used by the crown prince and royal officials. The tall granite walls of the gate serve as a platform for the wooden gate tower that watches over the city. The gate has a sign with its name written at the top center of the gate tower.
Gwanghwamun Gate went through several damages and restorations over the course of history. It was first severely damaged during the Imjin War (1592-1598) and was not restored until the reconstruction of Gyeongbokgung Palace in 1864. Under the Japanese administration, the gate was demolished and relocated to the north of the palace's eastern gate, followed by series of damages during the Korean War (1950-1953). In 1968, Gwanghwamun Gate was relocated back to the south of the palace and was rebuilt using concrete; however, the gate's position was shifted a few meters away from its original location. In 2006, a major reconstruction project took place to restore Gwanghwamun Gate to its original state and location, disassembling the structure completely and replacing concrete with granite and wood. After three years and eight months of construction, Gwanghwamun Gate was fully restored to its original form and was open to the public on August 15, 2010.
Address:
161, Sajik-ro, Jongno-gu, Seoul[Google Map]
Closed:
Tuesdays
Homepage:
www.royalpalace.go.kr (Korean, English)
Transportation
[Subway]

1) City Hall Station (Seoul Subway Line 1 & 2), Exit 3.
2) Gyeongbokgung Station (Seoul Subway Line 3), Exit 6 & 7.
3) Gwanghwamun Station (Seoul Subway Line 5), Exit 1, 2 & 8.
* Connected through the underground exit.
[Bus]
Red Bus: 5500-2, 9602, 9706, 9708, 9713
Blue Bus: 103, 150, 401, 402, 406, 408, 607,704
Green Bus: 0212, 1711, 7016, 7018, 7022, 8000
Village Bus: Jongno 09, Jongno 11
Additional Info
Restrooms:
Available
Facilities for the Handicapped:
* Wheelchair rentals available
tel: +82-2-3700-3900
zipcode: 03045
infocenter: • 1330 Travel Hotline: +82-2-1330 (Korean, English, Japanese, Chinese)

• For more info: +82-2-3700-3900