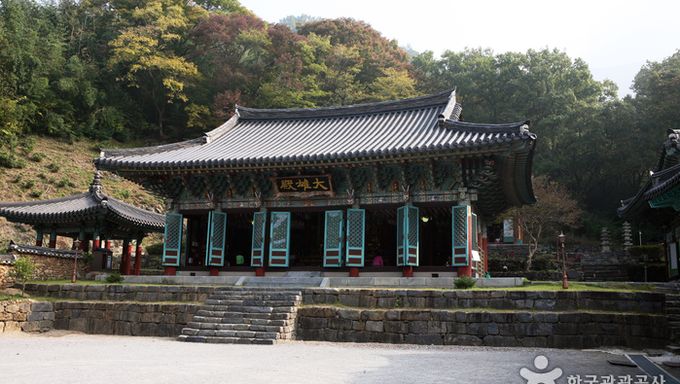 Introduction
Located on the western foothills of Mudeungsan Mountain, Jeungsimsa Temple is a representative temple of Gwangju. First founded by Buddhist monk Cheolgamseonsa Do Yun in 517 (Silla Kingdom), the temple was remodeled by Buddhist monk Hyesoguksa in 1094 (Goryeo Dynasty) and again by Kim Bang in 1443 (Joseon Dynasty). The temple was burned down during the Imjin War (Japanese Invasion, 1592-1598) and was reconstructed in 1609 by three Buddhist monks: Seokgyeong, Sujang, and Dogwang. It underwent several additional restorations before being destroyed again by fire during the Korean War (1950-1953). Most of the existing buildings, including Daeungjeon Halll (main temple building), were rebuilt in the 1970s.
Address:
177, Jeungsimsa-gil, Dong-gu, Gwangju[Google Map]
Closed:
N/A (Open all year round)
Homepage:
www.jeungsimsa.org (Korean only)
jeungsimsa.templestay.com Korean only)
How To Use
Parking Facilities:
Available
- Small vehicles 50 spaces / Large vehicles 3 spaces
Transportation
From Gwangju
U-Square Bus Terminal, take Bus 09 and get off at Jeungsimsa Bus Stop.
Walk approx. 20 min.
[Subway + Bus]
Hakdong/Jeungsimsa
Station (Gwangju Subway Line 1), Exit 1.
Take Bus 09, 35, 50, 51, 54 or 76
to Jeungsimsa (증심사) Bus Stop.
Additional Info
Admission Fees:
Free of charge
Available Facilities:
[Accommodations]
Temple hall: 3 Buildings (30 people)
Basement auditorium: 1 building (50 people)
[Other facilities]
Walking path, trekking path, restrooms, drinking facilities, etc.
Restrooms:
Available
Interpretation Services Offered:
Available
Reservation must be made in advance (temple volunteer & Buddhist monk)
tel: +82-62-226-0107
zipcode: 61493
accomcount: 20-30 people for accommodations
expagerange: Visitors ages 8 and older
expguide: Templestay
- Retreat type
- Temple life (Two-day program)
- 2-4 hr temple experience program

- Experience type

* Reservation: jeungsimsa.templestay.com/
infocenter: • 1330 Travel Hotline: +82-2-1330
(Korean, English, Japanese, Chinese)

• For more info: +82-62-226-0107