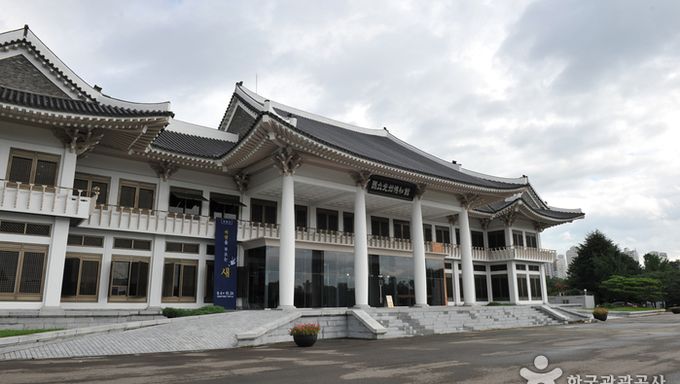 Introduction
Gwangju National Museum was established to promote development of cultural arts and to foster patriotism. The museum's construction began in 1977 and was open to public on December 6, 1978. Gwangju National Museum aims to conserve cultural values through collection and preservation of historical and valuable artifacts found in Gwangju and Jeollanam-do regions while making contributions to the community through continuous research, exhibition, and education.
Inspired by traditional Korean architecture, Gwangju National Museum is a six story building with two stories above ground and four basement floors. The museum consists of spacious exhibition halls with a total area of 3,305m². A reconstruction took place in December 1996, repairing old facilities and adding two new exhibition halls, the Special Exhibition Hall and the Buddhist Art Exhibition Hall.
* Gwangju National Museum Collections and Exhibition Halls
Gwangju National Museum exhibits various historical artifacts found in Jeolla region including prehistoric relics; artworks related to Buddhism and earthenware from during Baeje, unified Silla, Goryeo, and Joseon dynasties; and underwater discoveries from Sinan shipwreck.
1F – Paintings and Calligraphy Exhibition Hall, Special Exhibition Hall I & II, Buddhist Art Exhibition Hall
2F – Prehistory Gallery, Ancient History Gallery, Goryeo Pottery Gallery, Joseon Pottery Gallery, Discoveries from Sinan Shipreck
Outdoor exhibitions – Goryeo celadon kiln site, dolmens, Gwangju Jangun-dong Stone Monument, etc.
An Education Center and Children's Museum were established and opened to public in 2007.
Address:
110, Haseo-ro, Buk-gu, Gwangju[Google Map]
Length of Tour:
Approx. 1 hour
Homepage:
gwangju.museum.go.kr (Korean, English, Japanese, Chinese)
How To Use
Admission / Participation Fees:
Free
* Visitors must visit the ticket booth to recieve comlimentary entry tickets.
* Free exhibitions are limited to permanant exhibitions, Children's Museum, free special exhibitions.
Parking Fee:
Free
Structure Size:
Exhibition Hall B4F-2F, Administration building B1F-2F, Research buliding B1F-3F
Transportation
[Bus]
From Central City Terminal, take an express bus to Gwangju Bus Terminal (U-Square).
Cross the stree and walk to City Hall Bus Stop (Bus stop #2232).
Take Bus Sangmu 63 to Gwangju National Museum.
Additional Info
Collections Status:
Approximately 99,333 pieces (as of June 8, 2018)
Program Information:
1) Collect, preserve, and research cultural assets, hold exhibitions of historical artifacts, make publications, etc.
2) Provide cultural and educational activity programs for familes and children.
3) Promote traditional game activites, hold performances and concerts, etc.
Reservations:
{{infoname}}
tel: +82-62-570-7000
zipcode: 61066
infocenterculture: • 1330 Travel Hotline: +82-2-1330
(Korean, English, Japanese, Chinese)
• For more info: +82-62-570-7000,
+82-62-570-7050
parkingculture: Available
Small vehicles - 232 spaces
Large vehicles - 47 spaces
restdateculture: New Year's Day, Seollal (Lunar New Year's Day) & Chuseok (Korean Thanksgiving Day)
usetimeculture: Weekdays 10:00-18:00
Weekends and public holidays 10:00-19:00
[Late hours] 10:00- 21:00
Saturdays in March-October, last Wednesdays of every month
* Last admission is 30 min before closing